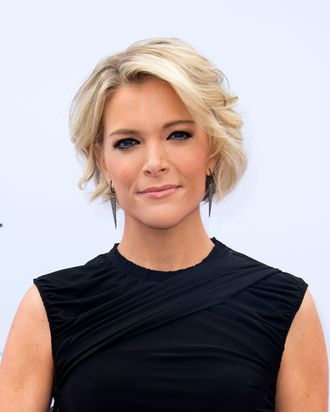 Megyn Kelly.
Photo: VALERIE MACON/AFP/Getty Images
Who among us has not, at some point or another, pondered the lovely life we would live if we were to swap bodies with a certain woman by the name of Oprah Winfrey? Surely, a billion-dollar media empire notwithstanding, we could do with the cozy life that Oprah and Stedman live, or perhaps the legendary friendship she enjoys with Gayle King? Or, simply, the recognition that comes from operating on a first name only? It is to such Oprah heights that Megyn Kelly hopes to one day arrive, according to a report on "Page Six."

A source told the tabloid that Kelly grew tired of the combative evening news cycle at Fox News and is really looking to change things up at NBC, where she will eventually take over one of the morning time slots.

"Megyn feels she has more to offer," the source told "Page Six." "She wants to help people the way Oprah did, and do something more positive. She'll be focusing on issues and bringing in real people as well as celebrities."

If so, a live audience with more lighthearted content would be a dramatic departure from Kelly's previous role as host of her show on Fox News, where she reportedly sparred with some of the network's other top hosts. But we all know Oprah doesn't spar with others, so come September, when Kelly's new show airs, we might see the former Fox host embody a new, funnier type of role. "She has a sense of humor and she wants to use that," the source told "Page Six." Bring on the jokes.