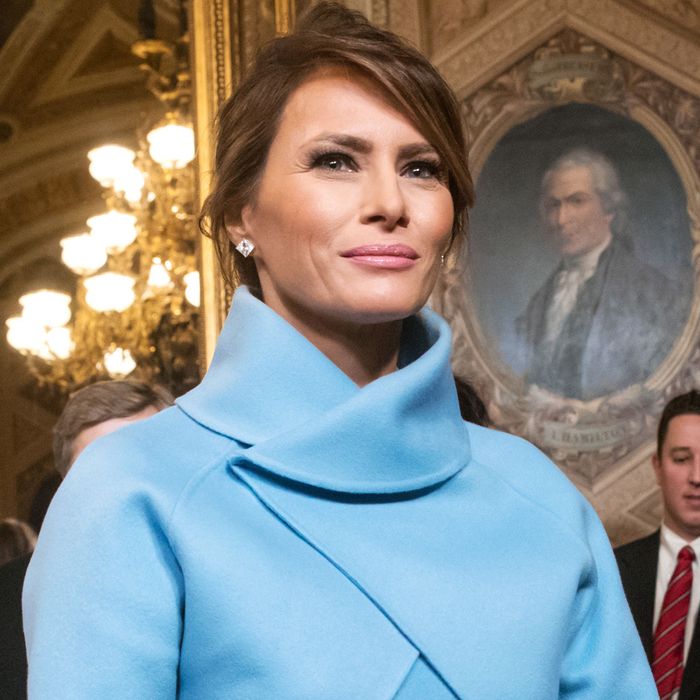 Melania and Barron Trump are reportedly, definitely, absolutely moving to D.C. in June.
Photo: Pool/Getty Images
Sounds like Melania Trump won't be letting that White House glam room go to waste after all. TMZ is reporting that Melania and Barron Trump will "absolutely [be] moving after the school year." Not only that, but staffers are already hard at work primping the White House for the First Lady's arrival with some spiffy new paint and whatnot.
There have been a lot of rumors about whether or not Melania and Barron would stay in New York City for an indeterminate amount of time or whether they'd head there after the school year was over. In February, a source told Us Weekly, "They will reevaluate toward the end of the school year if they will keep this arrangement or if Melania and Barron will move to Washington … They could go either way right now. They will ultimately do what's best for Barron."
The White House fired back with a lengthy statement from adviser Stephanie Winston Wolkoff, which read, in part, "Mrs. Trump will be moving to DC and settling in to the White House at the end of the school year, splitting her time between New York and DC in the meantime."
Now the question is what Trump's other First Lady will do.