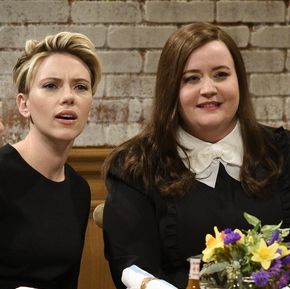 Kyle Mooney and Beck Bennett have a lot to say about feminism, much to the consternation of Scarlett Johansson and Aidy Bryant.
Photo: Will Heath/NBC
What's a day without women like at Saturday Night Live headquarters? Well, Scarlett Johansson and Aidy Bryant found out the hard way in this sketch with Beck Bennett and Kyle Mooney, which riffs on last week's International Women's Strike. The guys have a whole lot to say about the inequality facing women, from the wage gap to sexual harassment to these things called "microaggressions." Like when men write entire sketches where women hardly get to talk, and yet the men are also talking all about feminism? Yeah, that sort of thing. Even Lorde can't get a word in edgewise.

Between this and last week's sensitive-guy pickup parade, SNL has been killing it on the faux-feminist dude front lately. More of this, please.