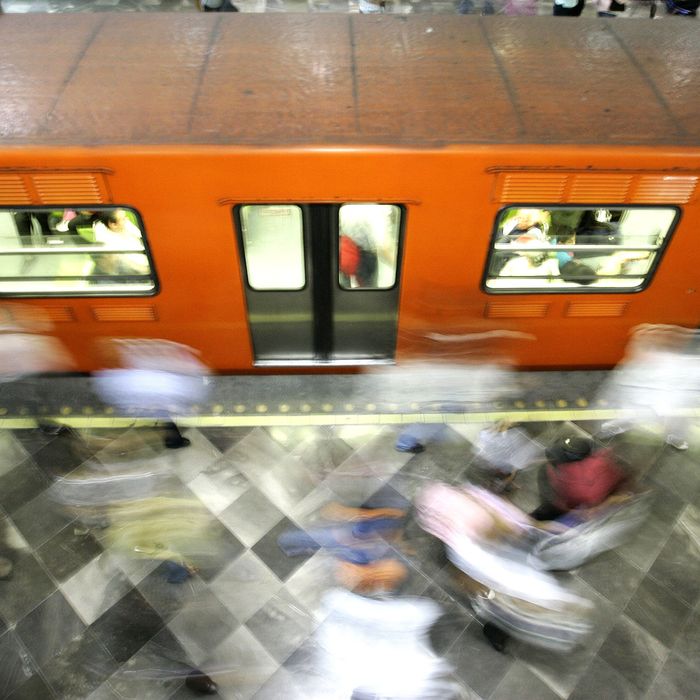 A so-called "penis seat" was installed in Mexico City's metro.
Photo: RONALDO SCHEMIDT/AFP/Getty Images
Women who regularly commute on public transit are all too familiar with the sexual harassment experienced by female passengers. In fact, in New York City alone, more than 458 sex crimes were reported during the first half of 2016. And so, to shine a spotlight on this horrible (yet common) problem, a new style of subway seat was recently installed in Mexico City's metro system: a penis seat.
Yes, you read that right: A seat designed to look like a man's chest, torso, and (protruding) penis was temporarily installed under a sign that says "Exclusive for Men" on Mexico City's No. 7 line, the BBC reports. On the ground underneath the seat is another sign that reads: "It is annoying to travel this way, but not compared to the sexual violence women suffer in their daily commutes."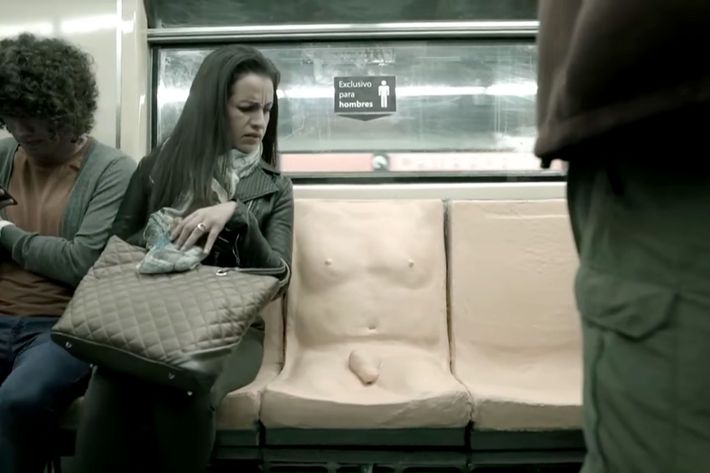 The seat is part of a campaign launched by UN Women and the Mexico City government, called #NoEsDeHombres, which seeks to highlight sexual violence on public transportation. The Mexican government has reported that 65 percent of women in Mexico City have been sexually harassed on the city's metro system, according to AdWeek. The video also states, "9 out of 10 women in Mexico City have been victims of some form of sexual violence" generally. A PSA of the campaign has already gone viral, with over 800,000 views on YouTube since launching on March 20.
The BBC notes that the campaign has been met with mixed responses, with some people applauding the idea and others complaining that it is "sexist" and unfairly targets men. However, Holly Kearl, founder of the US-based Stop Street Harassment campaign, told the BBC, "Too often initiatives around women's safety focus on what women should or should not do, so it is refreshing to see a creative campaign aimed at men."