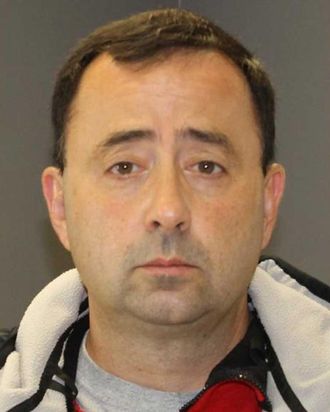 Dr. Larry Nassar.
Photo: Michigan Department of Corrections
More women have come forward with allegations that they were sexually abused by former USA Gymnastics and Michigan State University doctor Larry Nassar, and that MSU failed to properly investigate their complaints. NBC News has obtained a number of documents and interviews related to these latest revelations.
A former MSU student named Amanda told NBC News that she first filed a complaint about Nassar in 2014 when he began to digitally penetrate her without gloves during a treatment for pain in her hip and back. "I knew that what he was doing to me was sexual," she told NBC.
Amanda reported the event to MSU officials, who conducted an internal investigation of Nassar. The report concluded that Nassar's treatment was "medically appropriate" and that his behavior was not "of a sexual nature." Officials interviewed three MSU physicians and one trainer for the report; all four knew the doctor personally, and one even went so far as to say she was "very good friends" with him. The four people interviewed — all women — said that while they used the same pelvic treatment technique as Nassar to treat pain, they always wore gloves and never performed it under the patient's clothes. MSU's internal police investigated the allegations but the college's prosecutor declined to press charges. However, Amanda was contacted by MSU in 2016 when more allegations surfaced against Nassar and he was fired; she was told they would probably reopen her case, which they did. "I have to think about it all the time. I have to think about the fact that I knew it was wrong, and I came forward. I stood up for myself, and I was silenced," she told NBC.
MSU gymnast Lindsey Lemke told NBC that Nassar sexually assaulted her hundreds of times during so-called treatments when she was a teen at USA Gymnastics. She told head coach Kathie Klages about the incidents, but Klages defended Nassar; Klages was suspended and has since retired. In a particularly shocking detail, Klages reportedly asked gymnasts to sign a card for Nassar after initial allegations surfaced. Lemke is suing the university for not handling her complaints properly.
Nassar has been indicted on federal child-pornography charges; he was also charged with numerous counts of sexual assault in late February. Additionally, he's the subject of a number of lawsuits.