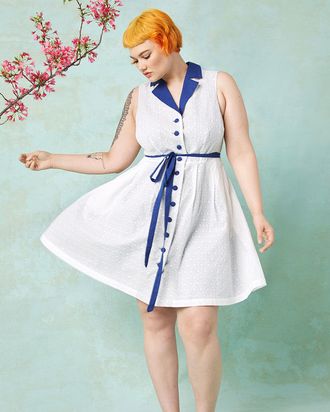 A look from ModCloth.
Photo: Courtesy of Modcloth
The beloved indie brand ModCloth — America's No. 1 source for podcast-themed apparel — could soon be under not-so-indie new management. Jezebel has a report that Jet.com — which, in turn, is owned by Walmart — is acquiring the brand. According to their source, the sale will officially be announced on Friday. Jet.com has been on the acquisitive hunt recently, snapping up e-commerce sites Hayneedle and Shoebuy.com. (We've reached out to reps for Walmart, Jet.com, and ModCloth for comment on the report, and will update this when we hear back.)

If true, it would be an unusual fit for ModCloth, which has sold itself on its quirky, indie cred and inclusive message (as seen in its current campaign featuring women of a variety of sizes and backgrounds). Right now, it's offering feminist-inflected items like a T-shirt that reads "The Future is Still Female," a riff on the hit Otherwild style. Meanwhile, as Jezebel points out, Walmart has been sued in the past for gender discrimination. Still, there have been stranger bedfellows in fashion.