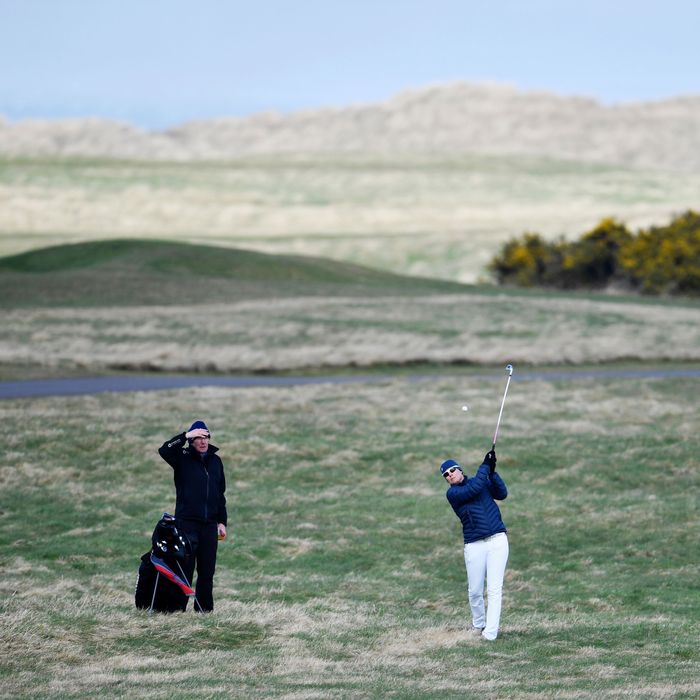 Muirfield Golf Club.
Photo: Jeff J Mitchell/Getty Images
Last May, members of the Muirfield Golf Club in Edinburgh, Scotland, voted to uphold a policy that prohibits women from joining the 273-year-old club. In response to not receiving a majority vote in favor of women's admission, the organizing body of the British Open responded by saying they would no longer be hosting the competition at the club.
Now, a little under a year later, the policy went up for a vote again, and perhaps in an effort to turn over the ruling about the British Open, women were given permission to join the club with 80 percent of the club's members voting in favor. Interesting timing!
Henry Fairweather, the captain of the Honourable Company of Edinburgh Golfers, told the New York Times that members were surprised by the criticism they received after May's vote. After the latest decision, however, the reception has been overwhelmingly positive — the R&A (the Open's organizers) tweeted a statement in response, saying that Muirfield would now be permitted to host the British Open again.
But just because women are allowed to join doesn't mean they'll suddenly be seen dominating the links: With a lengthy waiting list, it could take as long as two years for the club to see its first female member. Until then, the verdict is still out on whether the Edinburgh "women's-only" bench that excludes male members of the Muirfield Golf Club will be changing up its own policy of exclusion.