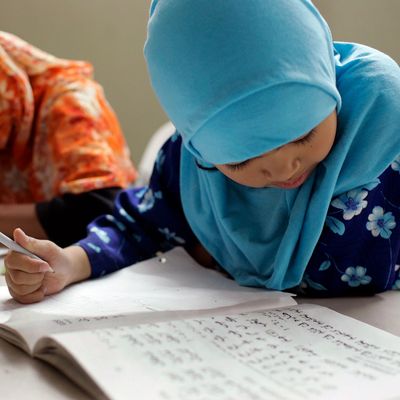 Photo: Gina Ferazzi/LA Times via Getty Images
Just a few weeks after Donald Trump's election, the Southern Poverty Law Center released a wide-ranging survey about the impact the new president was having in the nation's classrooms.
Of the more than 10,000 teachers, counselors, and administrators from K–12 schools across the country surveyed, 90 percent said their school's climate had been negatively impacted by Trump's election. And while many of those officials cited specific incidents of harassment and bigotry, a new survey from the Institute for Social Policy and Understanding shows that Muslim students are especially likely to be subject to bullying in school.
According to the survey, "more than two in five (42 percent) Muslims with children in K–12 school report bullying of their children because of their faith, compared with 23 percent of Jews, 20 percent of Protestants, and 6 percent of Catholics."
What's more, the study shows fellow students aren't the only ones targeting Muslim children — a teacher or school official has been involved in "one in four bullying incidents involving Muslims," as reported by parents.
"There's been a two-year spike in school bullying and harassment," Ron Avi Astor, a professor at the University of Southern California who studies school violence, told NPR. He added that he's gotten "lots of calls" from schools and districts lately, and that Muslim students are under particular stress, as many come from immigrant families.
That stress can be dangerous to the mental and physical health of Muslim students, warned Farha Abbasi, an assistant professor of psychiatry and managing editor of the Journal of Muslim Mental Health. "Think of trauma and toxic stress as putting brick over brick on someone's shoulder," she said. "Right now, many Muslim children are carrying a very heavy burden and one more brick can be the breaking point."