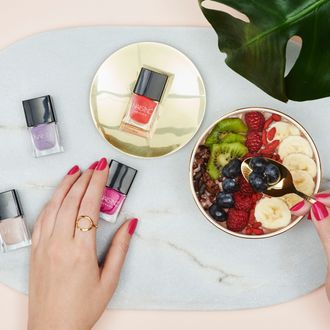 Nails Inc. Acai Bowl nail polish.
Photo: Courtesy of Nails Inc.
So you really, really love eating mushy fruit blended into oblivion with a spoon, huh? That's cool, whatever your reasons may be. Now there's a nail polish that complements your liquid-fruit addiction: Nails Inc.'s Acai Bowl Collection. Not only do the shades perfectly complement your smoothie, but each shade contains a blend of the very same ingredients, with chia, acai, moringa, caco, and goji infused into the formulas (allegedly for nail-nourishing and -strengthening purposes). But what about placenta?