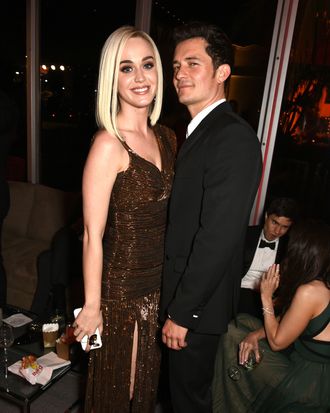 Katy Perry and Orlando Bloom at the Vanity Fair party.
Photo: Dave M. Benett/VF17/WireImage/Getty
Late Tuesday night, representatives for Katy Perry and Orlando Bloom released a joint statement to People announcing the couple's breakup. "Before rumors or falsifications get out of hand, we can confirm that Orlando and Katy are taking respectful, loving space at this time," the statement read, ominously. News of the split was surprising to keen-eyed Katy Kats, given that Perry and Bloom posed for photos together at the Vanity Fair Oscar party on Sunday, and Bloom posted an Instagram photo of Perry's dog, Butters, on Monday. What happened?
This morning, several outlets reported the story the couple's reps were probably trying to get out in front of: Bloom was spotted "getting cozy" with a mystery brunette at a pre-Oscars party on Saturday. According to People, Bloom was photographed with Erin McCabe, the daughter of Global Green president Les McCabe, at the Global Green pre-Oscars dinner at Tao nightclub. The two were seen "laughing and whispering in each other's ears." They also danced together. TMZ has footage of the whispering here, and the Daily Mail has several more photos here.
Bloom has attended the Global Green pre-Oscars party in years past, and he reportedly worked with the environmental organization to build an ecofriendly house in 2007. Les McCabe joined Global Green as president and CEO in 2014. His daughter does not have much of a public presence: Her last tweet, from 2014, refers to studying for finals.
Perry and Bloom started dating in January 2016, and they seemed to be doing well, before whatever happened this past weekend. That their representatives referred to "rumors," plural, in the breakup statement, suggests that more information about the split could be coming.