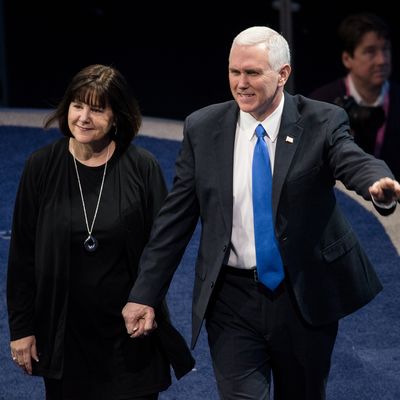 Karen and Mike Pence.
Photo: Noam Galai/Getty Images
We don't know much about Karen Pence, the Second Lady of the United States and wife to Vice-president Mike Pence. But thanks to a write-around profile of her in the Washington Post, we now know exactly how close she is to her husband. The answer? Very, very close. The two are almost always at each other's side, and while Karen Pence has a rule against chiming in on public policy, she ultimately serves as the "gut check" and "prayer warrior" for the VP.

For his part, Mike Pence is also very, very committed to ensuring that there's never even the slightest appearance of impropriety with regards to his marriage. To achieve such a feat, Pence reportedly won't have dinner alone with a woman who is not his wife; he also won't attend any events where alcohol is served unless Karen is by his side. Suddenly the "mother" makes a lot more sense.