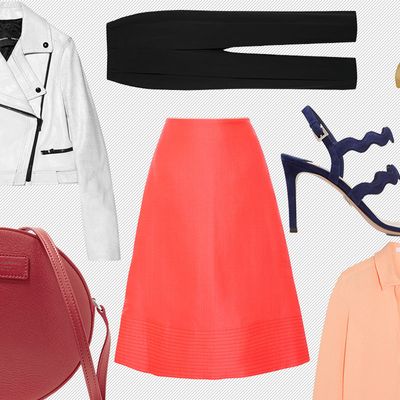 Twice a year The Outnet places a huge of selection their designer clothes on a massive clearance sale. This is the time when you can find The Row, Proenza Schouler, Alexander Wang, and more for anywhere between 50 percent to 85 percent off the retail price. While you might be tempted to buy a trendier one-wear-only piece just because it's soooo cheap, take a moment and think it over. The really good buys are the more subtle, work-friendly finds that you can wear all the time.
Technically the sale kicks off tomorrow but The Outnet gave us an exclusive sneak peak, like the good friend who hoards the best stuff in the corner of a sample sale. So read ahead, bookmark your favorites, and get clicking at 8:30 a.m. EST when it starts.
Having bought this coat at full price, I'm kicking myself in jealousy that it's now at 80 percent off. It's a sleek, minimalist-friendly alternative to basic black in the winter without veering into flashy brights.
Original price: $1,395
It might look like a simple peach silk blouse from the front but the entire back is pleated — a nice detail that will set it apart from your other shirts.
Original price: $425
Well-cut black pants by The Row that cost less than $250? If there is one thing to add to your cart immediately, this would be it. You'll wear them for years to come.
Original price: $1,190
It's exceedingly rare to find a genuine leather jacket that costs under $500, much less a designer one. The white color might not be as classic as a black one but pops nicely against an all-black outfit.
Original price: $2,650
Dangly, street-style worthy statement earrings for less than $20.
Original price: $55
Can tweed and pearls be subversive? When Simone Rocha twists them together in a slim pencil skirt, the answer is yes — especially if you skip the heels for mannish brogues.
Original price: $1,685
Speaking of The Row, here's another great find by them: a simple collarless white shirt in a crisp cotton. It's cut loose so balance it out with slim jeans or trousers.
Original price: $1,090
Get a jump on the most popular color on the fall runways right now with this simple, structured cross-body bag.
Original price: $1,335
No one does color better than Roksanda and this bright-coral ladylike A-line skirt is a prime example of that. Wear it with a tucked silk blouse for work and swap in a camisole on the weekend.
Original price: $1,345
Leave it to Alexander Wang to reinterpret the slingback by placing that one strap slightly askew for a sexy, sharp effect.
Original price: $625
Spend a comparable amount for a skirt from a fast-fashion spot or buy this beautiful, 100-percent-silk one? The answer is easy. (Buy this one.)
Original price: $595
Normally we don't put stuff that happens to be the last item available but this beautiful, minimal Prada sandal is too good to pass up. If you're size 8.5, this is a rare find that you can wear to work, fancy parties, or weddings for years to come.
Original price: $690
If you buy something through our links, New York may earn an affiliate commission.