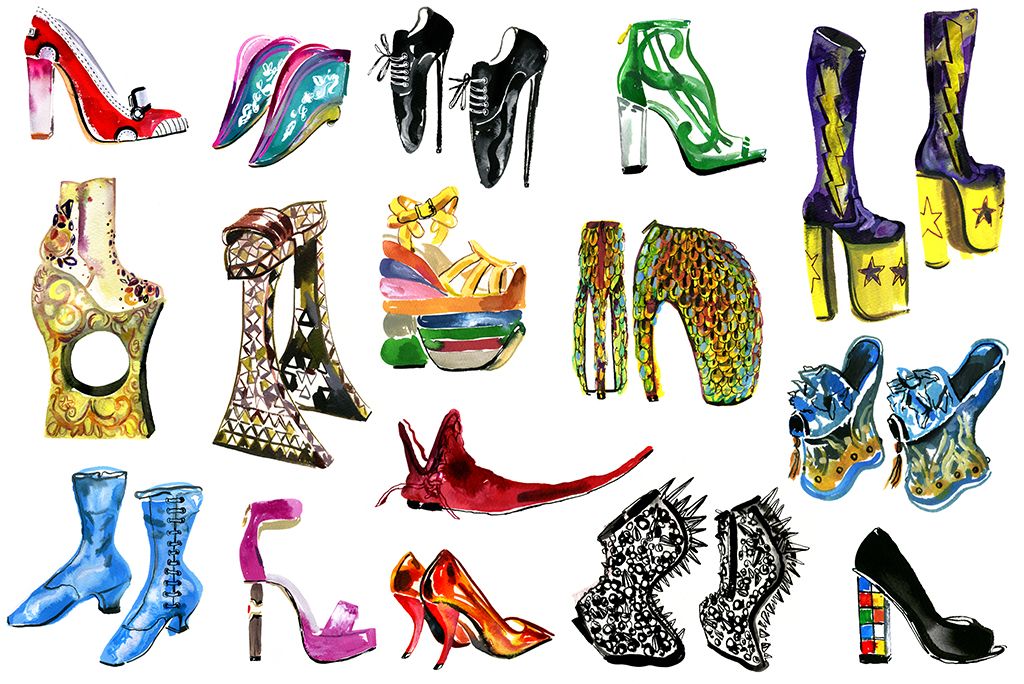 Society's fascination with shoes has endured centuries. From the first rudimentary foot coverings to today's street sneakers and couture stilettos, the evolution of footwear has produced a long and diverse history of boundary-pushing, out-there styles from around the world. And the genre continues to innovate: In February, the debut Katy Perry Footwear Collection proved an early 2017 contribution to this lineage of sensational shoes.
The new capsule, designed by the pop-centric singer-songwriter in partnership with Global Brands Group, lives up to Perry's high-energy aesthetic. Described in a release as "designed for women seeking bold, glamorous style at affordable prices," the line includes about 40 styles, from heels and sandals to flats and sneakers. Priced at $59 to $299, the sophisticated-kitsch collection is available on the brand's own site, as well as retailers including Macy's, Lord & Taylor, Zappos, and Amazon.
Featuring a futuristic celestial motif; bright, Havana-inspired primary colors and floral prints; and pumps and booties nodding to '90s street culture, the collection builds upon the influence of artful, avant-garde designs from modern and ancient times. To highlight that relationship, the Cut presents a timeline of some of the most dramatic, novel-at-the-time shoe styles throughout history, below.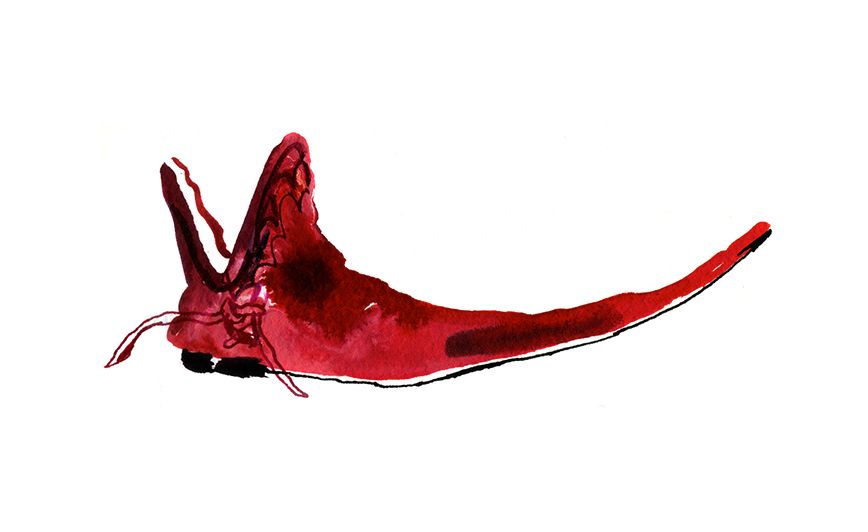 Sharp Style
Though these elf-like shoes (also known as "crakows") may appear impractical, the upper crust of Europe — pairs have been found in England, France, and Poland — wore them casually. The shoe's "beak," the poulaine, was often stuffed with moss to maintain its exaggerated point.
15th to 16th c.
Poulaines
These elongated-toe shoes were the leading fashion footwear of the wealthy and elite in Europe during the late Middle Ages.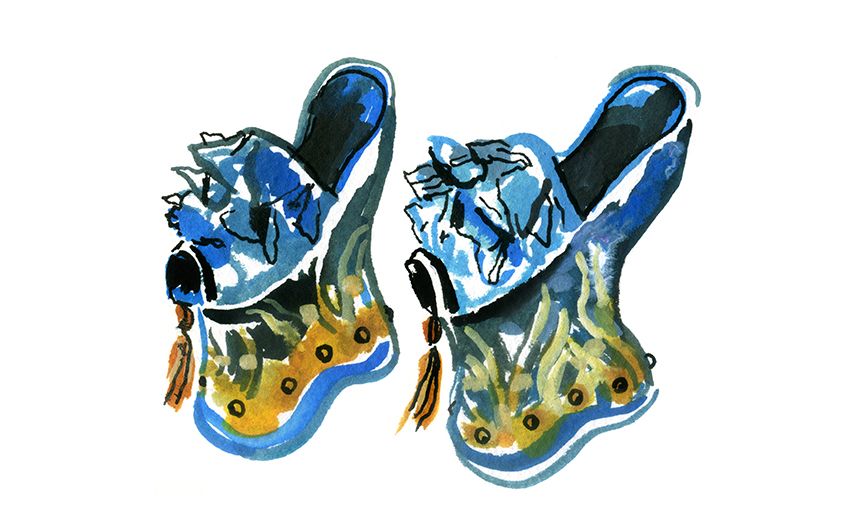 Platforms Rise
These pillars were worn by the wealthiest European women, with wedge height correlating to social status. These sandals and mules were made from expensive textiles and gems, and weren't meant to be roughed up. To walk in them, women were often assisted by servants.
15th to 17th c.
Chopines
High-status women in Venice and areas of Spain wore couture-like platforms, artfully constructed with premium materials like leather and jewels, to show off their wealth in height.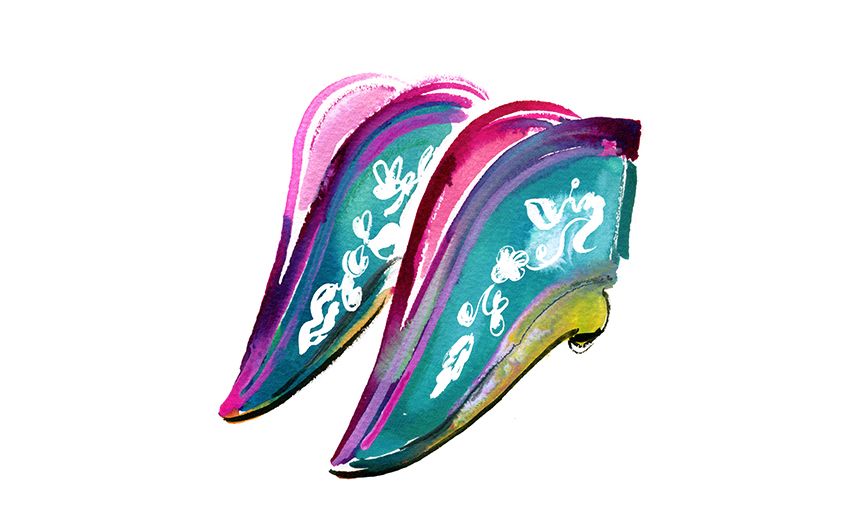 A Painful Legacy
Starting in the mid-10th century, Chinese girls and women notoriously bound their feet into the shape of lotus buds. Their boldly colored silk-and-cotton shoes were usually hand-embroidered with other "lucky" icons like fish, flowers, and Chinese characters.
10th to early 17th c.
Lotus Shoes
Chinese royals of the era revered the lotus flower, a symbol of purity and summer, as such good luck that the feet of young girls and women were stunted to fit into these tiny, bud-like shoes.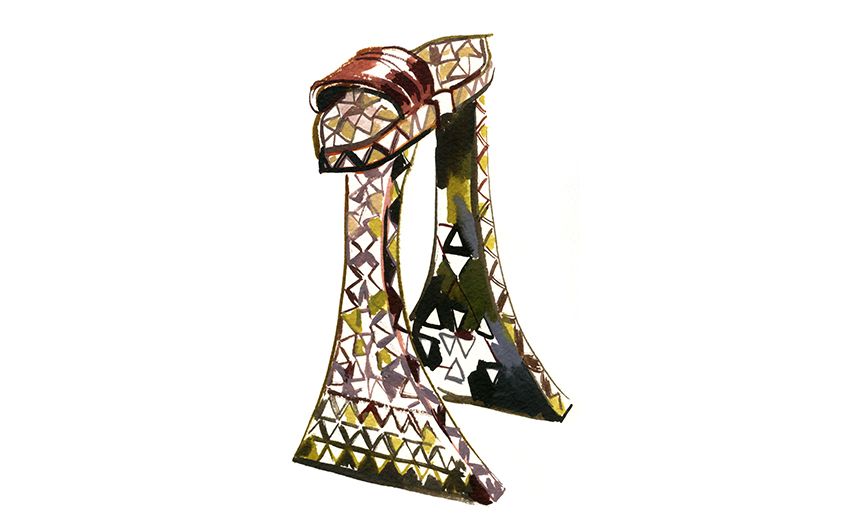 Stilts Make Noise
Wealthy Syrian and Turkish women balanced above the dirty ground in kabkabs (named for their clacking sound). Ornate styles were made from silk, leather, and velvet, with gold, silver, and mother of pearl details. Simple wood ones were worn in bathhouses and also by men.
14th to 18th c.
Kabkabs
Middle Eastern women elevated themselves in these wooden stilt sandals to protect their feet from muddy streets and steamy bathhouses.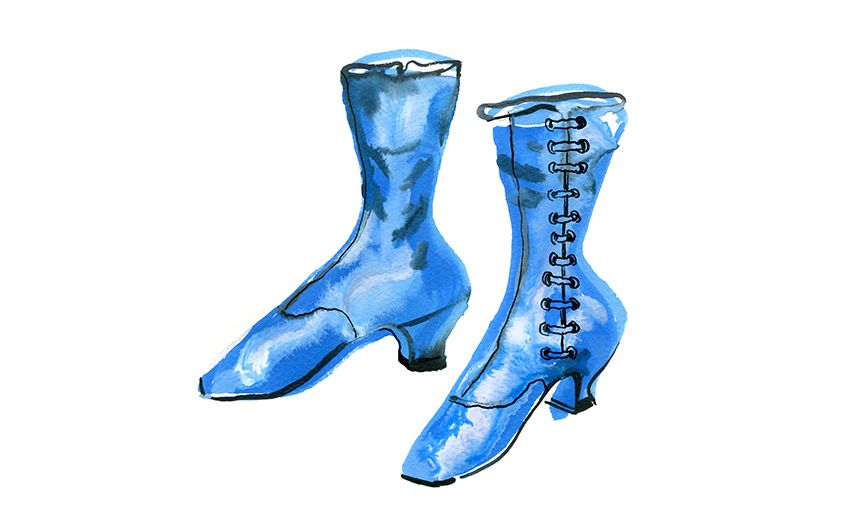 Walking Shoes
The Victorian era saw the manufacturing of shoes specifically for the left and right feet. Women adopted low-heeled ankle boots made with sturdier materials than before; laces and buttons improved fit, while tassels, ribbons, and dyes feminized the menswear-inspired shoe.
Late 19th to Early 20th c.
Silk Victorian Boots
Heeled boots with laces, buttons, and buckles became widely popular for women during Queen Victoria's reign, given their practical structure and better-fitting silhouettes.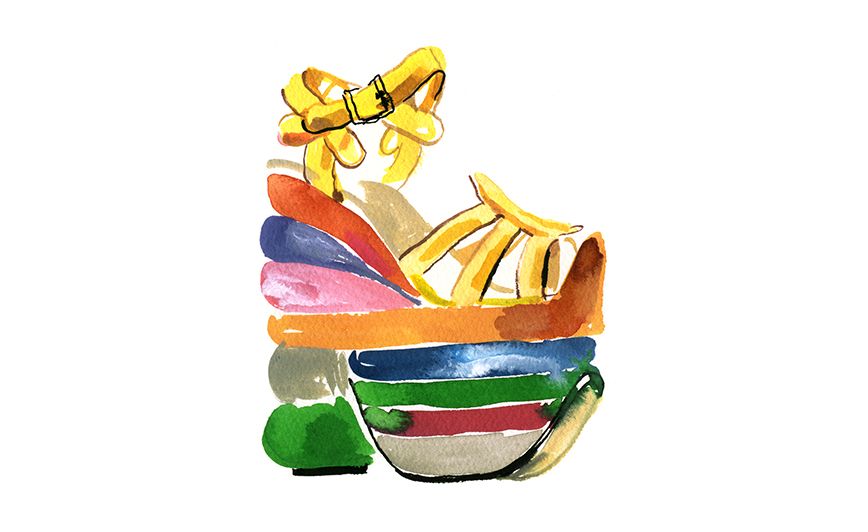 New Heights
The wedge dates back to ancient Greece, but Ferragamo pioneered the contemporary platform. Faced with a sanction on steel, the shoemaker turned to manageable, lightweight, and affordable cork, cutting radically high — but chic and wearable — shapes.
Late 1930s
Cork Wedges
Due to the wartime steel shortage, Salvatore Ferragamo conceived lightweight platform wedges made from cork and executed in eye-catching style, like this rainbow suede style.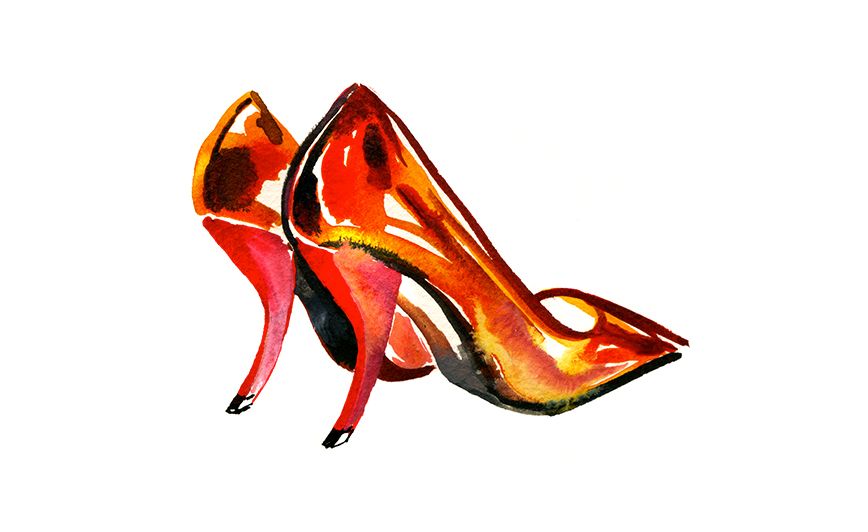 Just a Pinch
After Roger Vivier professionally separated from Christian Dior, he went on to create his signature Virgule heels, also known as the "comma heel." The pump's concave back leg, originally designed for Princess Soraya of Iran, gained it respect as exemplary haute couture.
1963
Virgule heel
In an unexpected twist, designer Roger Vivier reimagined the classic pointy-toed pump with a cheeky and structurally inventive curved heel.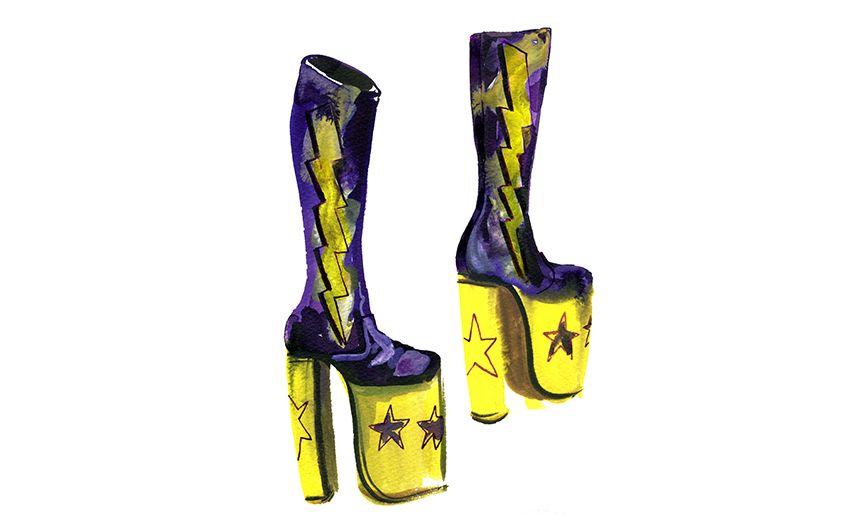 Rock Levels Up
Platform boots were a mainstay of glam rock in the early to mid-1970s. The performative, androgynous dress of acts like David Bowie, Alice Cooper, Elton John, and New York Dolls was completed with tall, tight-fitting boots crafted from metallic leather and glittery embellishment.
1970s
Rock-Star Boots
Stage legends like David Bowie and Iggy Pop ignited the sartorial glam rock trend, with its flamboyant sex appeal and larger-than-life platform boots.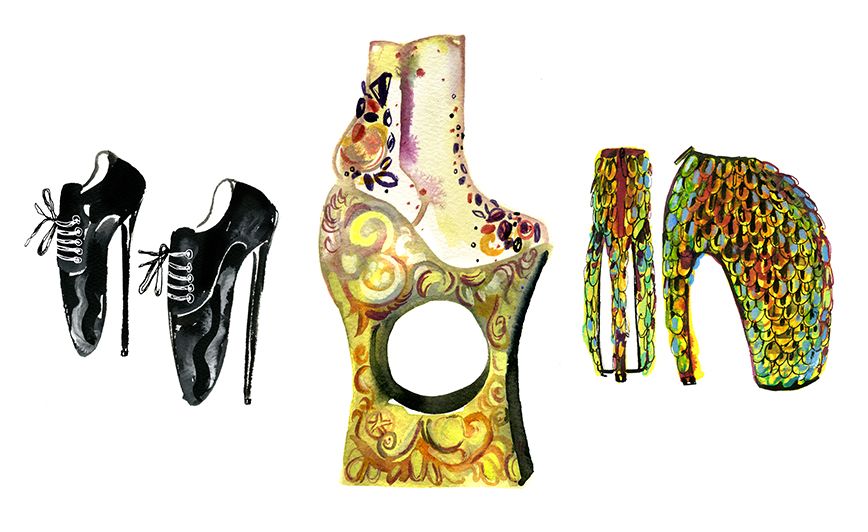 Fashion as Art
High-fashion masterpieces of the early 2010s: McQueen's Armadillos were famously auctioned; Louboutin's 8-inch heeled slippers (an interpretation of the fetish footwear) benefited the English National Ballet; and Pei's geisha-inspired platforms stole the runway.
2010s
Pointe shoes, new chopines, and Armadillos
Christian Louboutin and the late Alexander McQueen introduced extreme heels inspired by ballet and wildlife, while Chinese designer Guo Pei took architectural cues from traditional footwear.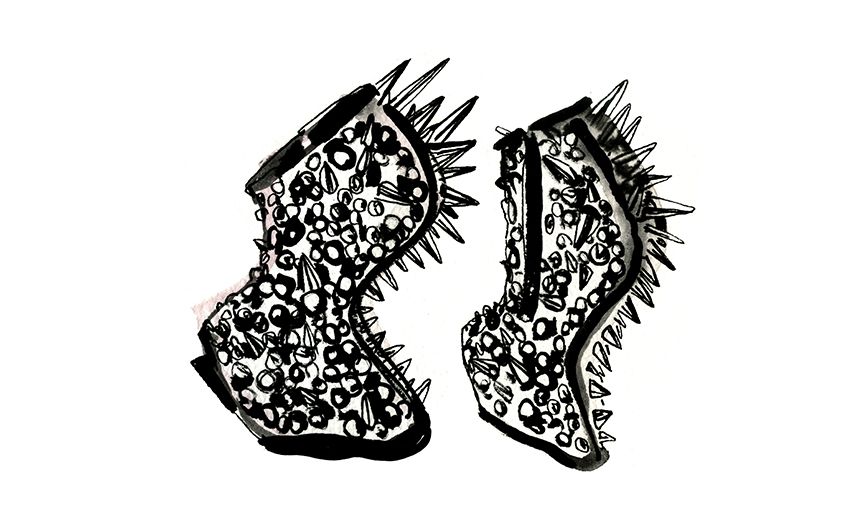 Heels Disappear
Inspired by cantilever technology, which shifts the wearer's weight to the front of the foot, these five-inch inverted "gravity shoes" proved deceptively wearable (even by performers like Lady Gaga). Earlier versions appeared in the '30s, minus the rhinestones and back-heel spikes.
2012
No-Heel Wedges
Victoria Beckham and Daphne Guinness were wearing heelless wonders in 2008, but the style propelled into mass market popularity after 2012, when Giuseppe Zanotti and Noritaka Tatehana started producing their own invisible wedges.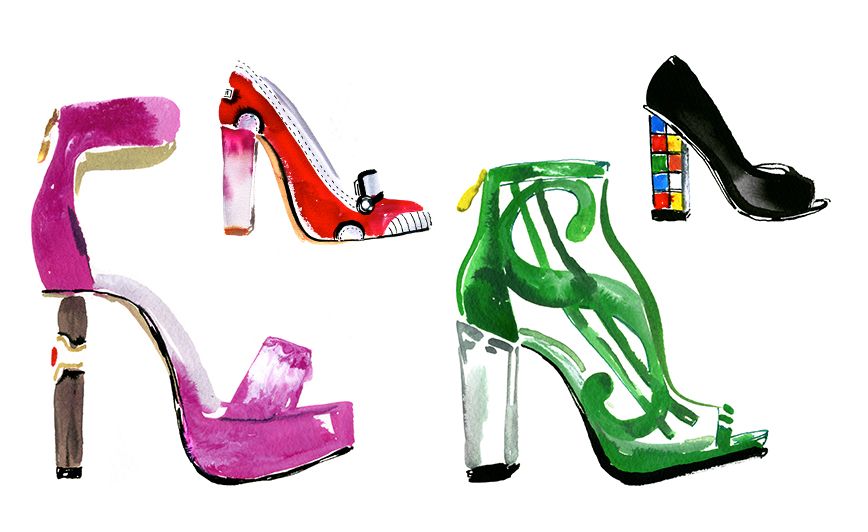 Good-Time Designs
With her penchant for shaking up the fashion scene, Perry has ventured into design. The playful, fashion-forward styles include standouts like lucite block heels and strappy, fruit-adorned stilettos. The statement-makers are the stuff of double-take-worthy style.
2017
Katy Perry Footwear Collection
Pop star Katy Perry splashes into footwear with her first shoe collection; the launch sparkles with her trademark maximalist aesthetic and iconic, fun-and-flirty style.
Shop the Katy Perry Collection
This is paid content produced for an advertiser by New York Brand Studio. The editorial staff of The Cut did not play a role in its creation.