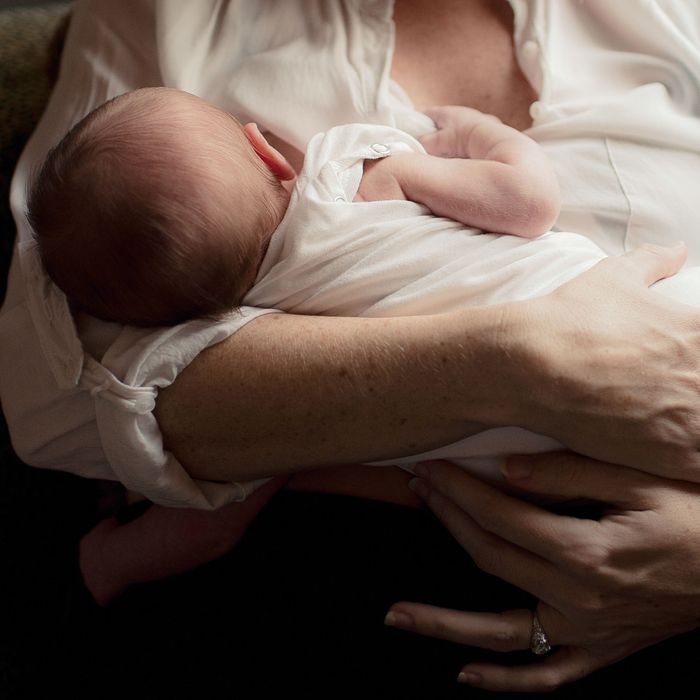 Photo: WANDER WOMEN COLLECTIVE/Getty Images
According to a new survey conducted by NHS and Public Health England, less than half of British mothers breastfeed their babies after the first two months. From the Guardian:
PHE recommends exclusive breastfeeding for the first six months, as does the World Health Organisation, because it boosts a baby's ability to fight illness and infection. But a comparison of initial breastfeeding rates and those after six to eight weeks in the final quarter of 2015 found that they were 40% lower for the latter (44% compared with 73%).
Among the 500 mothers surveyed about breastfeeding challenges, 74 percent mentioned pain, 71 percent pointed to being unable to take medications, and 63 percent said it could be embarrassing in front of strangers. Women expressed similar feelings about nursing in the presence of family: 59 percent were embarrassed in front of a partner's family, while 49 percent were embarrassed in the presence of extended family and siblings. As for breastfeeding in public: 64 percent said they felt more empowered to do so because of celebrity moms like Blake Lively who champion breastfeeding.
A survey published in 2016 found that England has one of the lowest breastfeeding rates in the world. In an effort to improve them, the government created a chatbot for women seeking breastfeeding support. Viv Bennett, PHE's chief nurse, told the Guardian the bot's aim was to support women through the difficult early stages of breastfeeding.
In the U.S., just slightly over half (51.8 percent) of mothers are still breastfeeding after six months. From the same data, published in the CDC's 2016 Breastfeeding Report Card, we know that about 80 percent of mothers start off breastfeeding, which the CDC says means "most mothers in the U.S. want to breastfeed and are trying to do so."