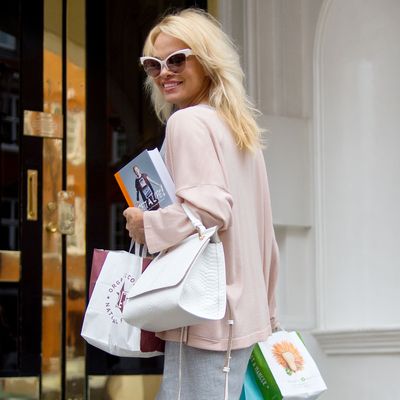 Pam Anderson delivered a vegan lunch to Julian Assange.
Photo: Ben A. Pruchnie/Getty Images
Though rumors of a relationship between Pamela Anderson and Julian Assange were launched by a vegan-lunch delivery and sustained by Anderson's repeated visits to the Ecuadorian embassy in London, they've been far from unconfirmed. But on Friday the actress published yet another cryptic blog post calling the WikiLeaks founder "one of my favorite people" and gushing about his empathy and bravery.
"My relationship with Julian — it's no secret," she wrote. "He is one of my favorite people, and he might be the most famous, most politicized refugee
of our time." She goes on for several more would-be stanzas:
Julian is a human being who is extremely empathetic and cares deeply about the world.
And -
because of his work .
He has made some powerful enemies in a few countries- America especially
by exposing them.

Julian is trying to
Free the world by educating it.
It is a romantic struggle—
I love him for this-
He is the strongest person
I know-
but,
living as he is,
is very unhealthy,
demeaning
and inhumane.
She expresses hope that Sweden, a politically progressive country, will dismiss the arrest warrant for Assange, who's wanted for questioning regarding 2010 rape allegations. Coincidentally, the rest of her post is a meditation on today's dating culture, which she says is "hyper critical" and can be "risky" for men. "We naturally worry about our daughters," she writes. "But we MUST also worry about our sons."
If you, reader, are confused by this, don't worry — she'll clarify her thoughts in her upcoming book, The Sensual Revolution, which Anderson says she's "writing full-time." As for dating Assange? "Let's see what happens when he's free," she said.