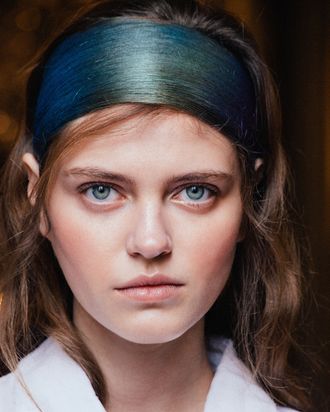 Issey Miyake fall 2017 runway beauty and hair.
Photo: Christine Hahn
Fashion Month is over and the last flaky pastry crumbs are being swept off the white tablecloths as everyone returns to their home countries. In the home stretch of Paris Fashion Week, hairstylists and makeup artists pulled out some of their best work. Issey Miyake had the best and coolest hair I've seen the entire month and Chanel-beloved hairstylist Sam McKnight was secretly testing out his forthcoming product line backstage. Here are the best five things I learned from Paris's fall 2017, including a colored, glittery hairspray that washes out and shows up on dark hair, how to make your own glittery eye shadow, and why grey eyeliner is the Isabel Marant favorite.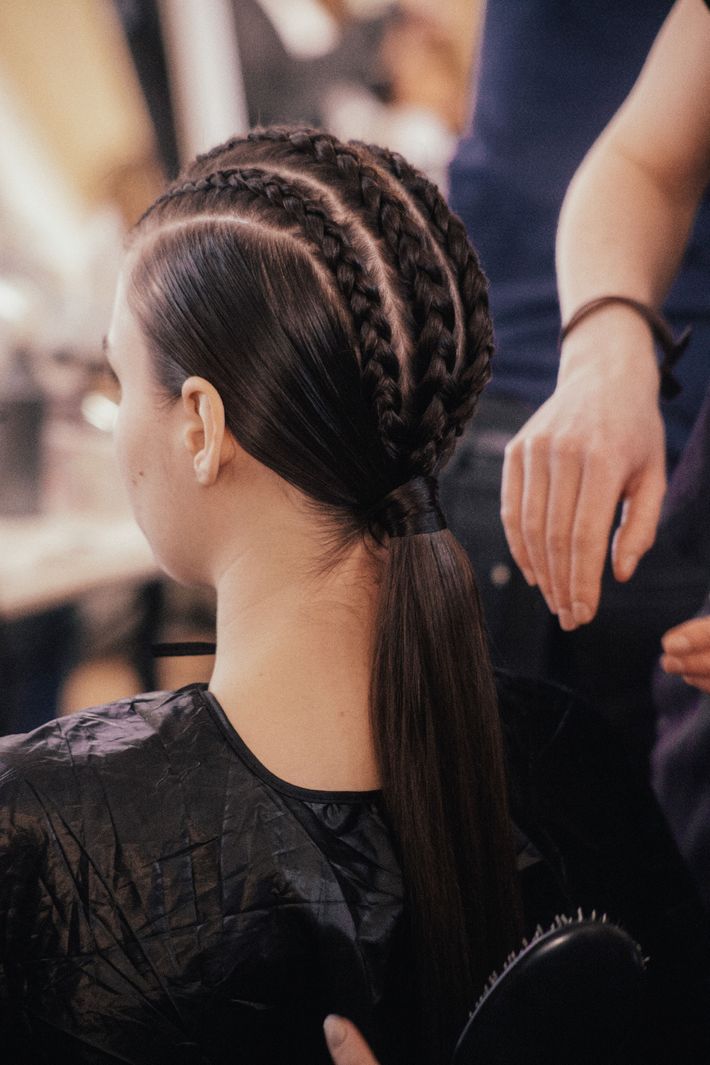 1. How to Get the Perfect Hair Band: You could buy some hair ties from Ricky's, or you can do what Sam McKnight did at Balmain and create a hair tie made out of hair by wrapping hair around your ponytail. The key to creating a smooth, luxurious, and snag-free ponytail is to take one section of hair (about a half inch), and slicking hair gel underneath. This keeps the non-gelled side smooth and also acts as an adhesive (think of it like a hair snap bracelet). You can then slide a bobby pin or two on the underside of the ponytail to further secure it. As for McKnight's gel of choice, it comes for now in a simple tub with the handwritten label "Gel," from McKnight's forthcoming product line.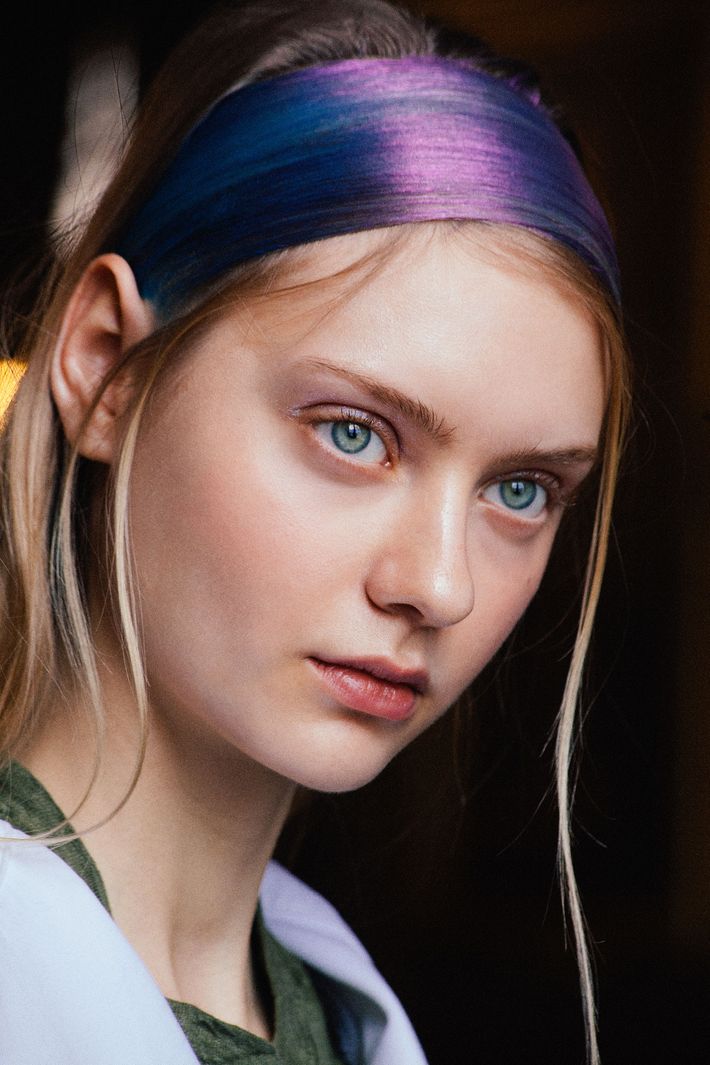 2. How to Make Your Own Glittery, Northern Lights–Inspired Eye Shadow: At the magical Issey Miyake show held in a 19th-century Parisian government building that had no less than six chandeliers in the dressing room, makeup artist Alex Box was inspired to create a simple eye-makeup look inspired by the Northern Lights. To create the eye look, Box couldn't find an eye shadow that had the necessary celestial dimension so she created her own using three varieties of MAC Cosmetics glitter pigment, mixed with MAC Mixing Medium. Mixing together MAC Glitter in MAC Reflects Transparent Teal, Reflects Blue, and Reflects Red, she applied the mixture all over the eyelid.
3. How to Create Wash-Out Holographic Hair Color: Truly, the coolest hair of Fashion Month came from James Pecis at Issey Miyake. In high school, I tried all types of colored hair mascara and sprays only to find that nothing showed up in my dark hair. But Pecis and his team were able to use L'Oreal's range of Color Insta Sprays in lavender, light green, and teal to create a "headband" halo of holographic-hued hair. To create the headband, Pecis and his team used lots of Elnett hairspray to flatten a section of hair which they pulled horizontally across the front of the head and pinned to get a headband. Then Pecis and the team used a mix of the sprays, spraying them one next to each other, to create a multidimensional halo of color that changed hue as the models moved their heads. And the sprays worked on all shades of hair (you can even see examples on YouTube).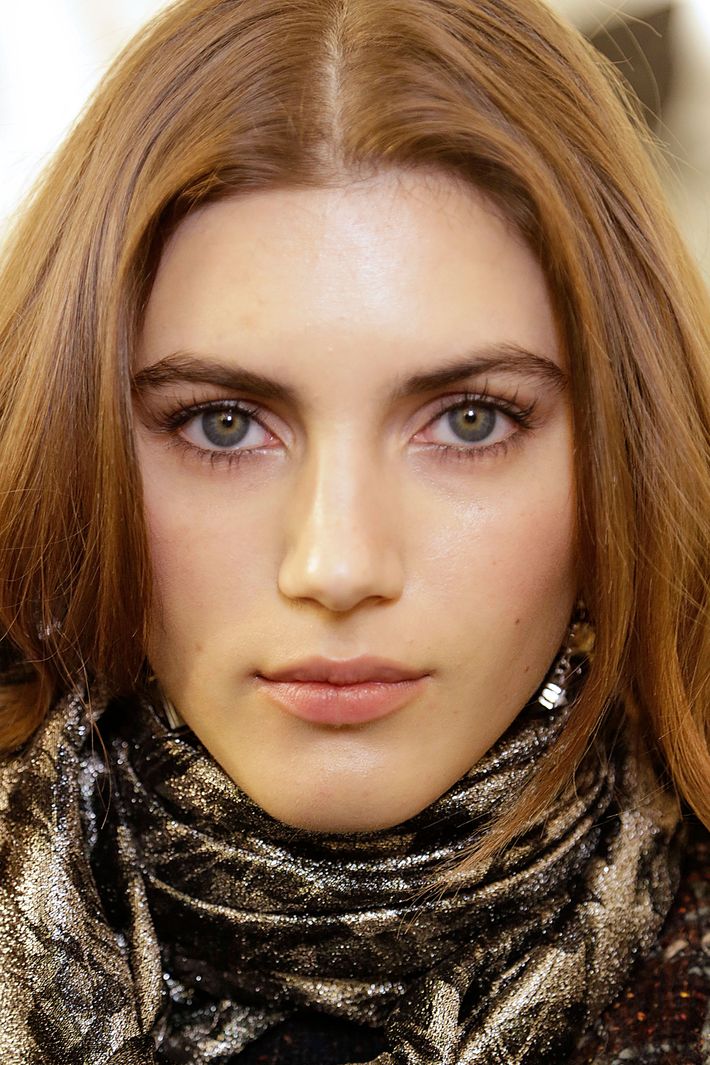 4. Buy Gray, Not Black, Eyeliner: For the natural "no-makeup" look at Isabel Marant, makeup artist Lisa Butler reached for the lead pencil. Not an actual pencil made of lead because lead poisoning is not a joke, but a gray eye pencil, the shade of graphite. "Black can look a little old school," said Butler. "It's soft and gives a little definition without looking too hard," she said as she drew a soft gray line that disappeared into the lashes.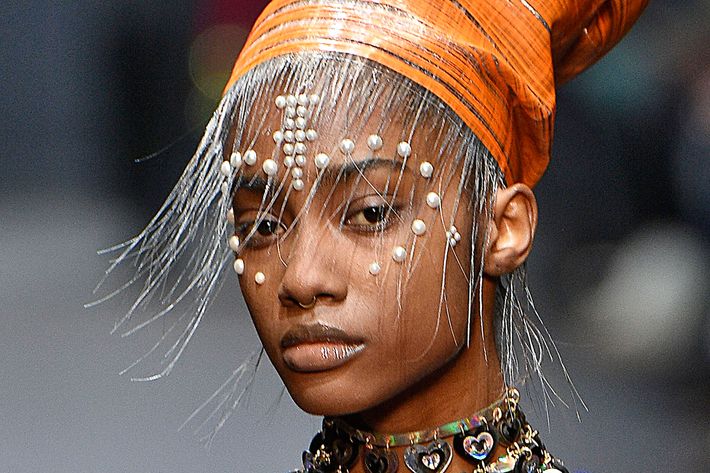 5. How to Become the Girl With the Pearl Face: At Manish Arora, makeup artist Kabuki and hairstylist Laurent Philippon were both inspired by a "tribal on acid" aesthetic. Kabuki found appliqué pearls with flat backs at a craft store and using a special adhesive (he said you can use eyelash glue), he glued the pearls onto each girl's face in a vaguely heart-shaped pattern. "Apply foundation after you glue anything onto the face," he instructed, because adhesive clings better to bare skin.
Should you ever be in need of a hair scarf and have plenty of time, Philippon has a DIY solution: Make your own. To create the airy scarves that enwrapped models' heads like turbans, Philippon laid pieces of extensions flat and then brushed clear acrylic paint between each layer, laying them criss-cross over each other. The effect was a multicolored, unique headscarf, with bits of hair dangling on the ends as models walked the runway. The Arora hairstyle, which involved lots of complicated, Bumble and Bumble Strong Finish Firm Hairspray and fake hair stuffing to fill out the head wrap, was frankly too difficult to accomplish at home.
Click through the slideshow for more backstage-beauty photos from Paris.