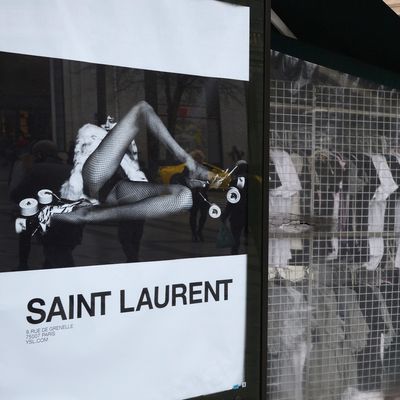 Saint Laurent's ad received complaints.
Photo: ERIC FEFERBERG/AFP/Getty Images
Just weeks ago, Saint Laurent received a slap on the wrist from the French advertising authority after two of its ads (including one featuring a model in fishnets and her legs spread) received more than 50 complaints that they were degrading to women. Now, Paris is banning any "sexist and discriminatory" outdoor ads from appearing in the French capital.
As Business Insider reports, the Council of Paris (which governs the city) voted on Tuesday for a new contract for outdoor advertising, which goes into effect this November. The contract with outdoor-advertising company JCDecaux bans any ads featuring sexist, homophobic, degrading, discriminatory, and ageist images.
Per Business Insider:
Paris mayor Anne Hidalgo said in a press release (translated from French): "After London and Geneva, which already put in place similar measures, Paris is showing the way by taking all possible actions to prevent the distribution and promotion of images degrading to certain categories of citizens."
The move comes shortly after the watchdog group ARPP (Autorité de Regulation Professionnelle de la Publicité) asked Saint Laurent to modify two of its ads, which also included an image of a bent-over model in fishnets.