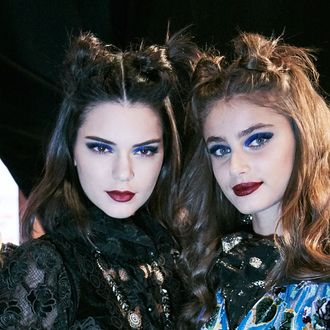 Pat McGrath used Dark Star 006 on the models at Anna Sui fall 2017.
Photo: Antonello Trio/Getty Images
Pat McGrath's best makeup tools are her fingers. On a Tuesday evening, McGrath has the suite of a fancy Manhattan hotel set up the resemble the backstage of a fashion show. There are tables and marquee lights set up, with her team at work, carefully creating a variety of smoky eyes with her new Dark Star 006 release. Although her team is working on beauty editors rather than on Bella Hadid, just like it is backstage at Prada or Versace, every look has to be presented to McGrath to be "checked." And that's when McGrath uses her legendary fingers to smudge out an eye, blend out an eye shadow, or direct a makeup artist how to better shape an eye.
"More, more, more," sings out McGrath when one editor is presented for "check." The editor is brought back to have more creamy black pigment and glitter smudged onto the eye until it goes from being something an amateur-yet-talented makeup artist could create to an editorial eye you could find in the pages of Vogue Italia, all artfully smudged Steven Meisel shadows and shading. When it's my turn, McGrath uses the wide pads of her fingers, which I swear, run several (not uncomfortable) degrees warmer than the rest of us do, to blend more white glitter (a new holographic white-lavender pigment called Astral White) onto the center of my eye.
"Pat, you're so warm!" I say.
"I know," she giggles. "I think I am warm. I think that's the secret! I think that's why it doesn't look the same when someone else does it."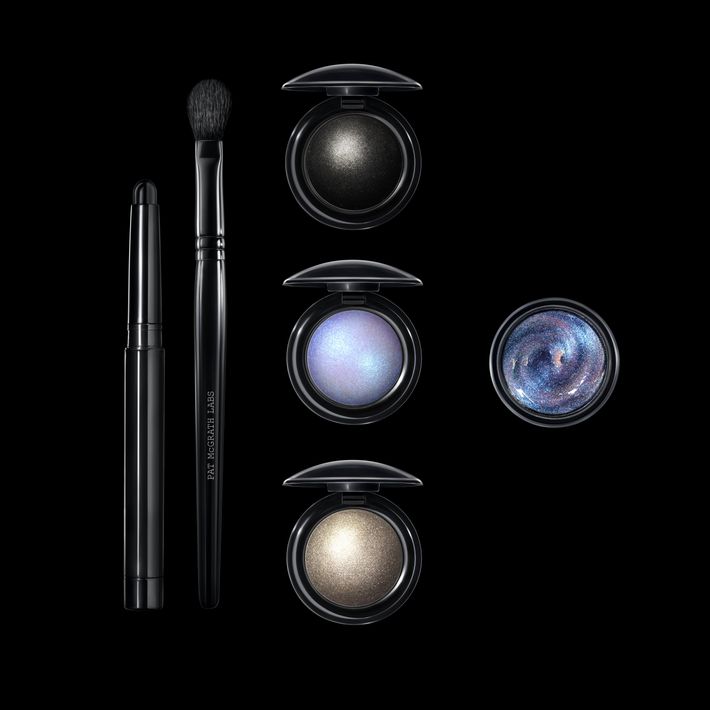 McGrath's slightly warm temperature may be a gift from God that permits her to blend pigment like no one else, but even if you run a normal 98.6 degrees, her new eye kit is a gift to anyone who has ever attempted a smoky eye. McGrath's on Instagram and she's seen the tagged smoky-eye pictures, which are oftentimes faded and filtered into sameness, yet into hundreds of Likes — the Instagram smoky eye. "It's contour, contour, shape, shape shape, it's not really how a girl wants to look," she says. McGrath hopes that the creamy and glittery textures of her kit are so superb that it encourages people to play and create actually individual smoky-eye looks that don't look like an exercise in beauty paint-by-numbers. "The formulas are very forgiving and easy to use — have fun with it!" is her advice, running counter to most of the smoky-eye how-tos you see on the internet, which advise you to put the darkest color closest to your lashlines and then, blah, blah, blah.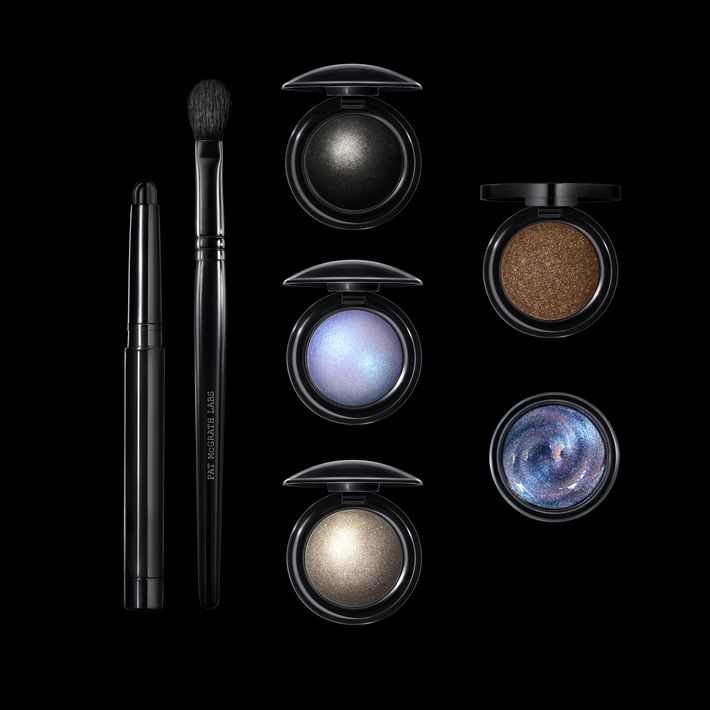 The textures are such a sensorial experience and delight for the eyes that, like beauty Play-Doh, you almost can't help but want to get your hands into it, even if you aren't McGrath. There are three kits — Dark Matter, Ultraviolet Blue, and Ultra Suede. Each one contains a velvety black shadow (Dark Matter Pigment), an incredibly creamy yet not too soft rich black smudge stick (Black Smudgeliner Eye Kohl), a holographic white eye gloss that has flecks of purple-y blue glitter in it so that when photographed, it swirls like the cosmos (Cyber Clear), Astral White, and brown-gold holographic glitter pigment (Mercury). The Ultra Suede contains the addition of a brown shadow that McGrath swears will suit every skin tone because "it has just the right amount of gold and silver in it." The Ultraviolet Blue includes a rich sapphire blue with glitter that McGrath used on the models at this season's Anna Sui show.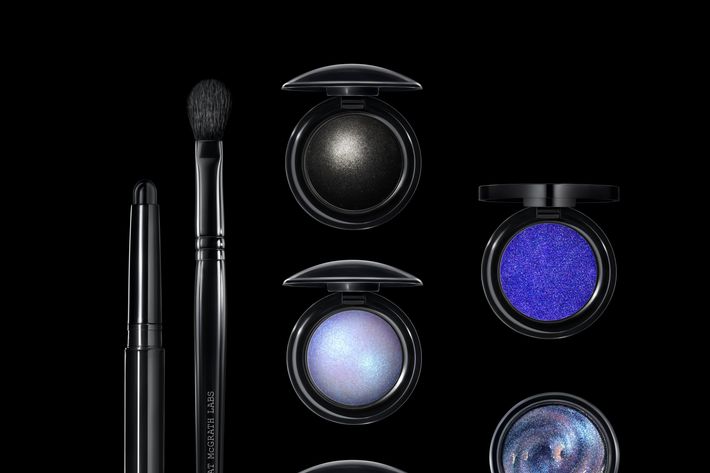 You see, McGrath has been holding out on us a bit in backstage interviews. In her storied career, McGrath has created countless black eyes (maybe more than a pro boxer), and when asked how to get the look, she's always under-simplified it a bit — mentioning color, but leaving out the importance of texture. "In real life, you approach a black eye more the way you would do it on set, which is where it's different dimensions," she tells me, which is why the majority of the products in Dark Star 006 have either a gloss or glittery textural element to them that you can add to eye shadow or wear alone. It's dimension that makes a color look more interesting and grabs your eye, and prevents a black smoky eye from looking like a black hole. Mix and match any piece from the kit together and it's like a never-ending math-options problem, because none of the colors or textures melt together to become a muddied blob of colors. There's no map to Dark Star 006. You could quite literally put every single element from the kit onto your eye and wind up with a great look. There's not even much blending required because everything is so smudgeable.
"Add more of the black, give her a sexxxxxxy eye," she says to my makeup artist, who adds more and more Astral White and eye gloss, and uses the Black Smudgeliner Kohl to tightline under my eyes. There's no sharp eyeliner lines or ombré-like smoky fading. Like a great painting, it looks like nothing more close-up than well textured, glittery blobs of color, but from a slight distance, my eyes look magnetic, inviting, and mysterious — but still like me. It looks like nothing I've seen before on Instagram and I've never been so happy to be more analog.
Dark Star 006 goes on sale April 11, with the Dark Matter set retailing for $95 and Ultraviolet Blue and UltraSuede retailing for $130. You can pre-order them now.