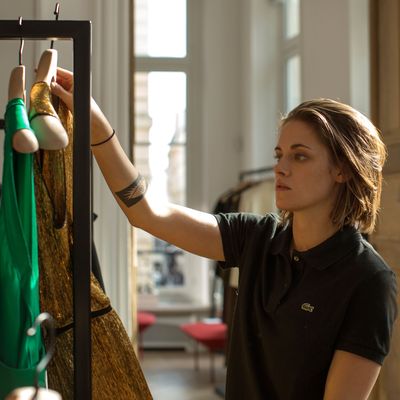 Kristen Stewart in Personal Shopper.
Photo: IFC Films
The roll call of high-end designer labels depicted in Olivier Assayas's new film Personal Shopper reads like a (dry-clean-only) laundry list of Paris' most dizzyingly haute names: Chanel, Louboutin, and Cartier. When I first heard about the film's premise, I imagined something along the lines of Assayas's 2014 Clouds of Sils Maria, where the luxury fashion matched the sophisticated Swiss milieu. But despite centering around the world of fashion, Personal Shopper doesn't aim for glamour. For a movie that also features CGI ghosts, it lands squarely in more realistic territory when it comes to the industry as it actually operates.

Kristen Stewart plays Maureen, a resolutely grubby attaché to Kyra, a Euro-celebrity of some kind. While her title is the chichi-sounding "personal shopper," she functions more as a glorified courier, shuffling designer shopping bags around on her motorbike, promising the tightly wound emissaries of luxury she encounters that Kyra won't abscond with their samples this time. (It seems this has been an ongoing problem.) Stewart is far from her face-of-Chanel persona here: She operates in hipster-schlub mode, ferrying gowns and baubles in sneakers, lank hair, and a beat-up leather jacket. (Like Clouds of Sils Maria, Personal Shopper was partly funded by Chanel, which makes it even more interesting that Stewart is not shown as the sleek, glossy swan we see in her ad-campaign work.)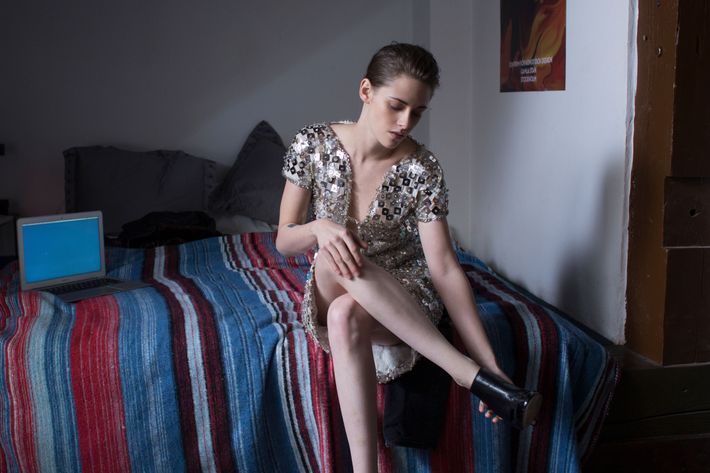 The supernatural particulars of Maureen's story aside — she moonlights a medium who is trying to communicate with her late twin's ghost — she is like many people I've encountered in fashion: the schlepping, uncomplaining cogs who keep the glamorous shod and clothed and stoke the engines of luxury. Like the stylists' assistants crouched on a dirty studio floor taping a celebrity's hem or the photo intern bouncing light towards them with a silver reflector, they live to enhance the image of others and aren't terribly concerned about their own. This is not a portrayal we often see on film, which tends more to elevated portraits of fashion figures, as in Yves Saint Laurent and Coco Before Chanel, or giddy skewering, like The Devil Wears Prada and Zoolander.

Despite her lack of personal glitz, the transformative power of dressing up isn't lost on Maureen. She may handle racks of luxury clothing with the diffidence of a Target clerk restocking a shelf, but she clearly has reverence for them all the same. As Stewart said in an interview with Women's Wear Daily, "I play somebody who is very, very attracted to the shiny and beautiful and aesthetic and superficial things that she actually is quite self-hating about." Just as Kyra can't bring herself to return the borrowed luxury clothes and accessories that mark her as a star, Maureen is drawn to them, perhaps as a way of taking on Kyra's identity or simply escaping her own for a moment.

Maureen is, conveniently, the same size as Kyra, so she's constantly invited to try the samples on, though her boss disapproves. And Stewart's performance completely conveys that illicit quality. When she holds up a Chanel gown sparkling with silver paillettes against her own sweatshirt-clad torso, you can see her imagining how it might catapult her into a new, luxurious, worry-free life. (Many a fashion assistant on a photo shoot has done the same.) One of the film's most hypnotic scenes involves Maureen dressing up in Kyra's designer harness and wobbly high heels — doubly taboo because Maureen isn't supposed to do it, and we're not supposed to see it happening. I won't spoil the film by telling you how that scene ends, but Maureen's attempts to use fashion to slide out of her grief-stricken identity make for fascinating viewing. Fashion isn't just the province of happy people, Assayas reminds us: Dressing up can also be a salve for sadness and despair. We just don't like to talk about it much.