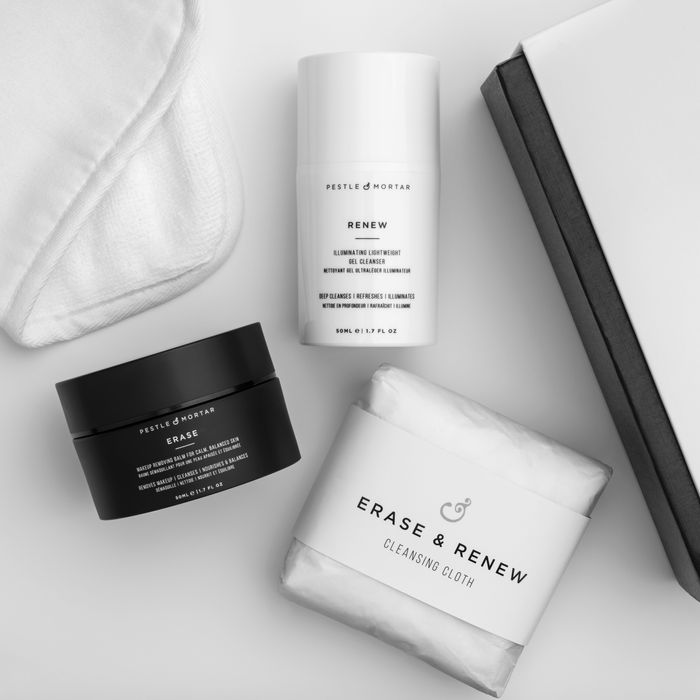 Pestle & Mortar's Double Cleansing System.
Photo: Courtesy of Erase & Renew
Cleansing twice at night and once in the morning sounds excessive, but it's a necessary practice for clear, cooperative skin. Believe me: I spent much of my teens and early 20s covered in benzoyl peroxide goop, and nothing has willed my skin into non-embarrassing territory more effectively than a rigorous face-washing routine. The benefits of double cleansing are well-documented, but the absolute best cleansers to enact the routine are new and (this is embarrassing to admit) expensive.
These cleansers arrive as a pair in Pestle & Mortar's Double Cleansing System. The first is Erase, a light-as-air balm. The women behind Pestle & Mortar — a biochemist and a skin-care fanatic —whipped super-light oils like grapeseed and sunflower together to formulate the nearly fluffy concoction. You apply the balm in typical double-cleansing fashion: to a dry face. The oils rip through makeup, dirt, and oil, and are completely removed with the aid of the system's muslin cloth. The textured side of the cloth gently exfoliates skin, too, so your face feels smooth after each use.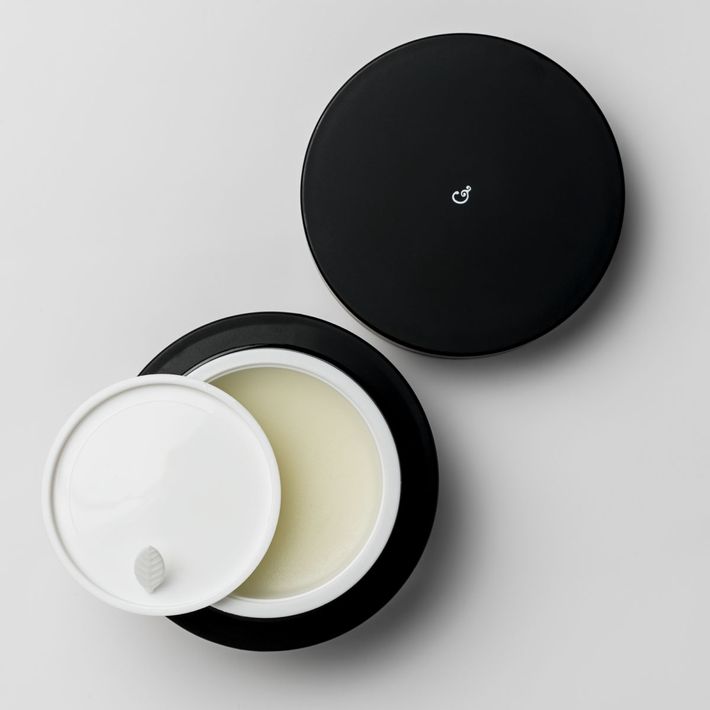 A tragic side effect of many balm cleansers is that they often rinse poorly and leave a greasy residue on your face. Erase rinses clean, and though it's prepared with a score of essential oils, its smell falls short of obnoxious (in fact, the scent is patently light and inoffensive).
In Pestle & Mortar's system, Erase is followed by Renew, which is another balm cleanser, but smoother and even lighter. While Erase is conceived to remove (dirt, oil, and makeup), Renew is designed to cleanse (be it pore sludge or acne bacteria). Fruit enzymes deliver the promise of more even skin tone over time, and the addition of glycerin and vitamin E condition skin in a way that your face never feels taut after the double-duty wash. After massaging the balm over your face, you remove it with the smooth side of the kit's muslin cloth. In the morning, Renew can be used as a stand-alone cleanser.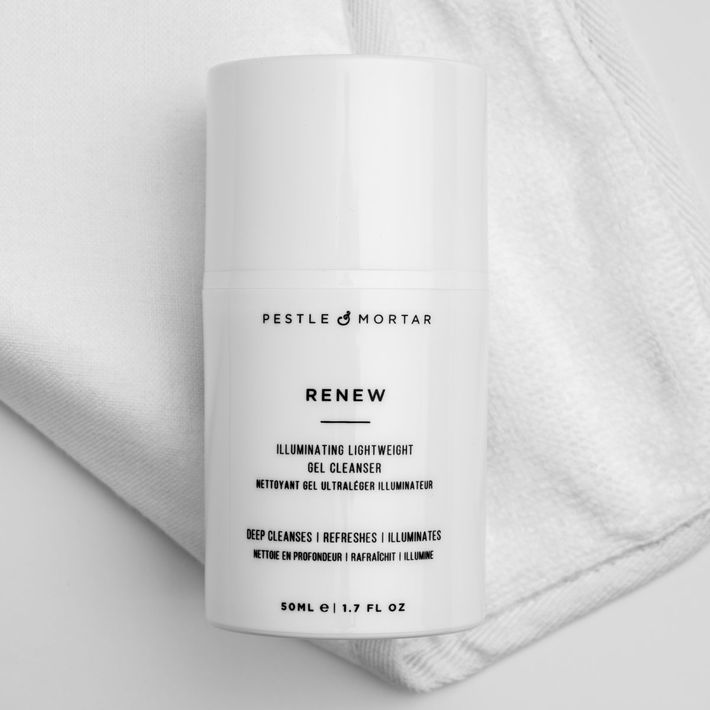 This may all sound like standard-procedure double cleansing, but Pestle & Mortar's system is a cut above the rest. This is vain, but the non-fussy black-and-white packaging looks aggressively elegant in my bathroom cabinet. Additionally, unlike industry favorite, Eve Lom, Erase and Renew are developed without much-maligned mineral oil. Most important, the system simply cleans my skin better. It's hard to find face washes that simultaneously cleanse well and feel good. That this double-cleansing system does both is more than a small victory.