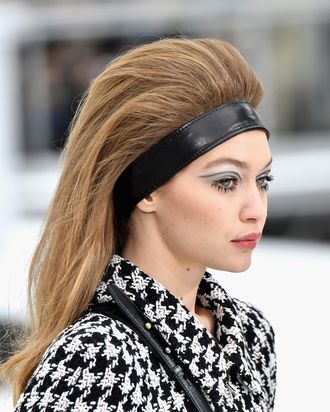 Chanel fall 2017 beauty with Cinderella headbands as seen on Gigi Hadid.
Photo: Pascal Le Segretain/Getty Images
"More volume! More volume!" must have been the rousing cry this morning at Chanel. It wasn't in reference to the sounds of the rocket launch but to hair volume, as models like Kendall Jenner and Gigi Hadid were given teased hair that made them several thousand miles closer to the moon. Hairstylist Sam McKnight and his team worked hard at back teasing each model's hair into a '60s-like Belle du Jour bouffant while placing several varieties of sparkly Chanel headbands (sequined, leather, or a mix of both) over the forehead and ears in a Cinderella-like placement (McKnight called the style #Chanelarella).
To pair with the '60s-like hair, makeup artist Tom Pecheux and his team also created a soft '60s cut crease, with a soft moon-gray shadow. Anchoring the models down to earth were drawn-on exaggerated Twiggy lashes that were a little clumpy but not clunky or spidery, focusing on the bottom lashline. No word on whether Chanel catering this year featured on-theme Moon Juice, though.