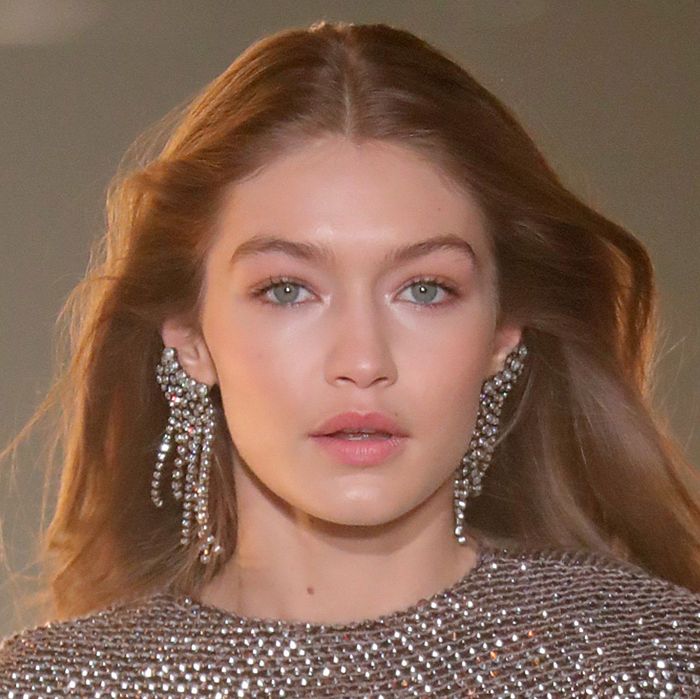 Gigi Hadid in a $9 lipstick at Fall 2017 Isabel Marant.
Photo: Antonio de Moraes Barros Filho/WireImage/Getty
Backstage at Isabel Marant, there's been fresh-squeezed juices, lentil salads, and ripe chunks of avocado and baguettes (a Frenchie take on the avocado toast). So it's no surprise that Marant and her makeup artist, Lisa Butler, have always taken a natural view to makeup — both in product choice and aesthetic. At yesterday's Marant show, Butler designed a rosy, healthy look for the models, using the same product to simulate a lip and cheek flush. Models like Gigi Hadid wore Burt's Bees 100% Natural Moisturizing Crayon in Niagara Overlook (and no, the show was not sponsored by Burt's Bees — Butler chose the product of her own accord), a rosy blush-pink tone which Butler applied liberally on the lips and also blended on the cheeks. Darker-skinned models got a deeper color of the same product in Redwood Forest. For $8.99, you can get the warm flush of an Isabel Marant girl — just about the least expensive thing in her universe. And it has almost 300 five-star Amazon reviews.