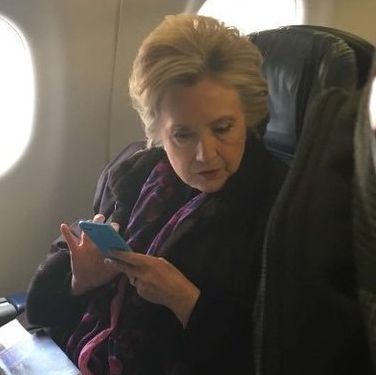 But her emails!
Photo: Caitlin Quigley
The flight from Boston's Logan Airport to New York City's LaGuardia is usually pretty uneventful, but a photo of a special guest on Friday's afternoon jaunt is making the rounds for good reason.
Hillary Clinton was sitting in coach with Huma Abedin when she was spotted reading what very much looks like a copy of USA Today with the blaring headline, "Pence used personal email in office."
Communications manager Caitlin Quigley couldn't resist snapping a quick pic of HRC in a moment open to endless interpretation and meme-ification. Quigley told the Huffington Post she "sent it to like six people sitting around me who saw [she] had it," and the rest is viral history.
As if this whole business weren't ironic enough, then-Governor Pence had been using an AOL account (oh, the shame!) for his state business — and the account had been hacked three months before he blasted Clinton on Meet the Press.