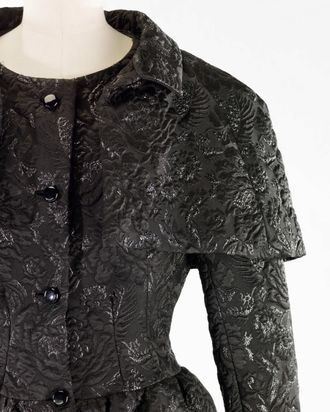 A Balenciaga dress from 1968.
Photo: Collection Palais Galliera - © Julien Vidal / Galliera / Roger-Viollet
The Palais Galliera fashion museum in Paris will be paying homage to Cristóbal Balenciaga — specifically the designer's clever and complex use of the color black. Although vivid palettes also characterize the famed designer's work, Balenciaga was heavily swayed by the folklore of his Spanish origins, from mourning dress to bullfighter costumes to monastic robes. Balenciaga's mastery of volumes and technique — from the barrel line (1947) to the tunic dress (1955) — made him a pioneer, all the more evident when viewed through a monochrome lens. As Véronique Belloir, director of haute-couture collections at the Palais Galliera and curator of the show, puts it: "Revisiting Balenciaga's work without the distraction of color enables us to focus our gaze on the essentials, and enter into the subtlety of his materials and execution." In 1938, Harper's Bazaar in fact described Balenciaga black as "almost velvety, a night without stars, which makes the ordinary black seem almost grey."
The extramural exhibition "Balenciaga, l'œuvre au Noir" opens March 8 at the Musée Bourdelle, with garments placed alongside works by namesake sculptor Antoine Bourdelle in the heritage space where he lived, worked, and taught until his death in 1929. The carefully preserved quarters, which encompass plaster casts, sculptures, drawings, and archival documents, underscore the sculptural nature of great fashion. This same juxtaposition worked beautifully for a 2011 exhibition highlighting the work of Madame Grès; Balenciaga too is a fitting pairing with Bourdelle's oeuvre. The venue contrasts, per Belloir, "Balenciaga's noir versus Bourdelle's ivory; light, airy, mastered fabrics versus dense, heavy, and brut materials; the feminine versus massive bodies and nudes." Moreover, Balenciaga's dresses took shape on the dress form. The exhibition text declares: "In many respects, couture and sculpture have similar objectives. Harmony comes from balanced proportions, movement from the choice of materials. In French, the vocabulary of the two disciplines reveals a common approach."
For those whose understanding of Balenciaga begins with the recent drama of the contemporary brand — be it carryover hype from Gvasalia's Vêtements, racism accusations, or casting issues and the brand's denial of mistreating models this month at Paris Fashion Week — this exhibit is a reminder of the label's origins and pure craft. To rewind with an abbreviated brand history: Balenciaga was founded in 1917 by Cristóbal Balenciaga (born in 1895 in the Basque country, to a fisherman father and seamstress mother); he apprenticed as a tailor and eventually opened his first boutique in 1919. The Spanish royal family and aristocracy sported his designs, but when the Spanish Civil War forced him to shutter his stores, Balenciaga moved to Paris, where he opened his maison de couture at 10 Avenue George V in August 1937. In 1944, the German authorities shut down the business; après-guerre, he revived it to great — and swift — acclaim, making waves until retiring in 1968. Oscar de la Renta, André Courrèges, Hubert de Givenchy, and Emanuel Ungaro were all alumni of his studio. His last public appearance was at Chanel's funeral in Paris; he faced his own mortality in 1972, buried in the town where he was born.
The exhibition is split into three sections. "Silhouette & Volumes" highlights scale, from oversized chapeaux to petite pillboxes, dramatic collars au pli (fashioned without a collar band and cut on the bias to elegantly expose the nape of the neck), and garments such as a military-inspired cannelé wool suit (winter 1952), exhibited in Bourdelle's ancien atelier. The "Black & Light" section examines the designer's expertise in creating texture via plays on refracting light, pairing heavier matte fabrics with the shimmer of satin ribbons, ornamental beading, embroidery, or paillettes. These assorted fabrics reveal their discreet subtleties under varied lighting, such as an evening gown with silk velvet and silk taffeta (1965/1966) or a façonné quilted dress and jacket in lurex lamé (1968). The last section, "Blacks & Colors," celebrates Balenciaga's use of key accents against inky forms, like a black wool coat trimmed with an arctic fox collar (Winter 1957), or a bias-cut marquisette dress offset with pink satin ribbon (Winter 1967).
The catalogue text emphasizes that Balenciaga made "no concessions, no effort to flatter the body or to be seductive." Belloir further adds that Balenciaga created his own sinuous vision of womanhood using "a new silhouette far from all the facile and conventional effects that render the feminine morphology simply 'pretty.'" The late, famously tart-tongued Diana Vreeland lauded: "When a woman wearing Balenciaga enters a room, no other woman exists anymore."
The exhibition dovetails with the centenary year of the maison and the 90th anniversary of its move to Paris. (It kicks off Palais Galliera's wider "Spanish season," which will continue with a study of Spanish costumes starting in June, and Mariano Fortuny starting in October.) Balenciaga the brand was resurrected in 1986 when Jacques Bogart acquired the rights; the first collection was designed by Michel Goma in 1987, then replaced in 1992 by Dutch designer Josephus Thimister. Nicolas Ghesquière joined the ranks during Thimister's term and was promoted to head designer in 1997, clocking in a 15-year tenure thereafter until November 2012. Heir Alexander Wang presented in February 2013, and was succeeded in October 2015 by Demna Gvasalia.
"Since the invention of haute couture, there haven't really been that many remarkable créateurs," Belloir muses, citing Vionnet and Chanel as the few on par with Balenciaga. "We often forget that couture is, first and foremost, a demanding métier, with a history of codes, techniques, and a rich and precise vocabulary."
"Balenciaga, l'œuvre au Noir" is on view in Paris from March 8 to July 16, 2017.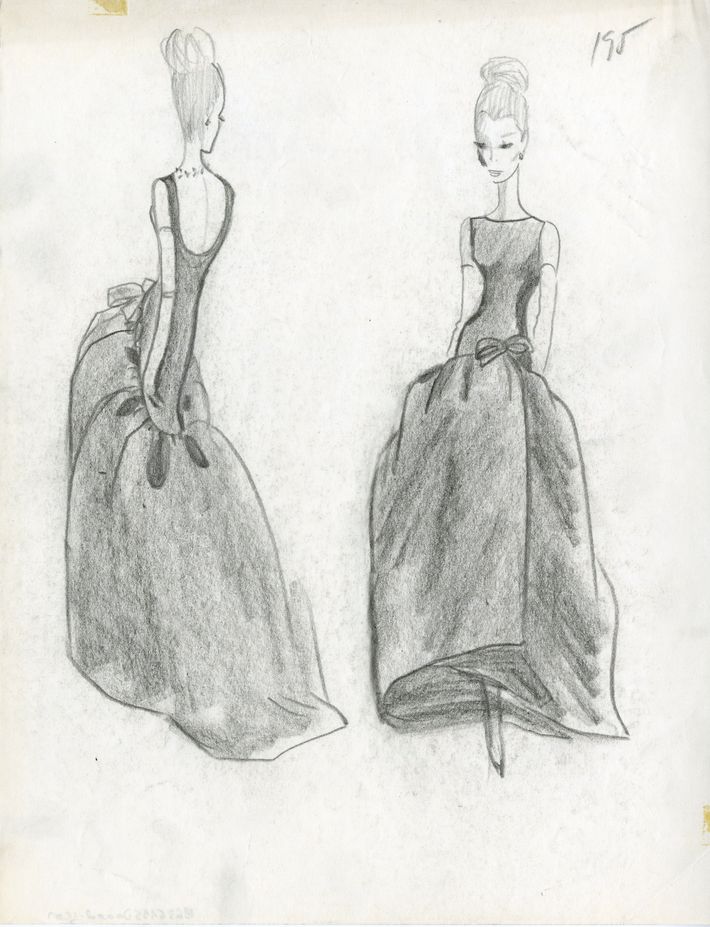 Balenciaga. Illustration de collection, Eté 1963, robe du soir en gazar noir.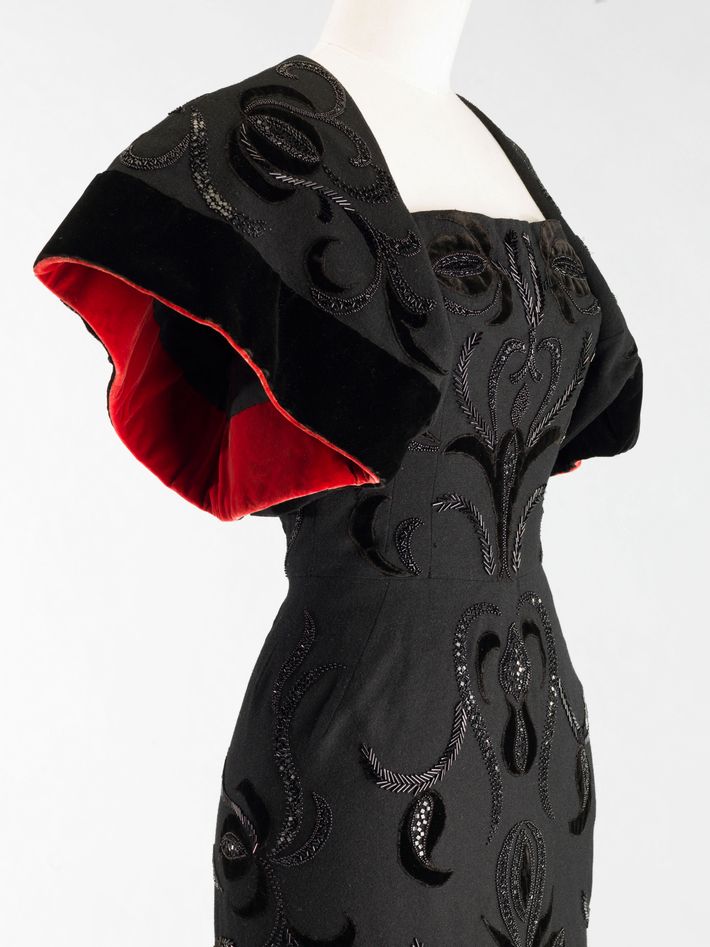 Balenciaga. Boléro et robe fourreau 1947-1948. Lainage noir, velours de soie noir et rouge, broderies d'applications de velours, broderies de perles et tubes de jais.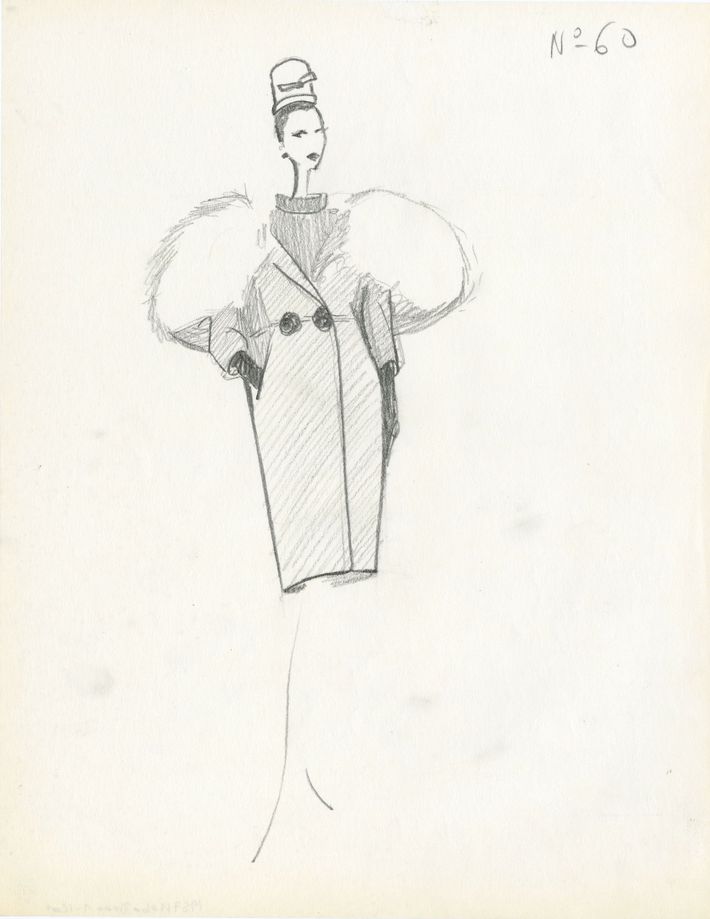 Balenciaga. Illustration de collection, hiver 1957, manteau en lainage noir, col en renard polaire.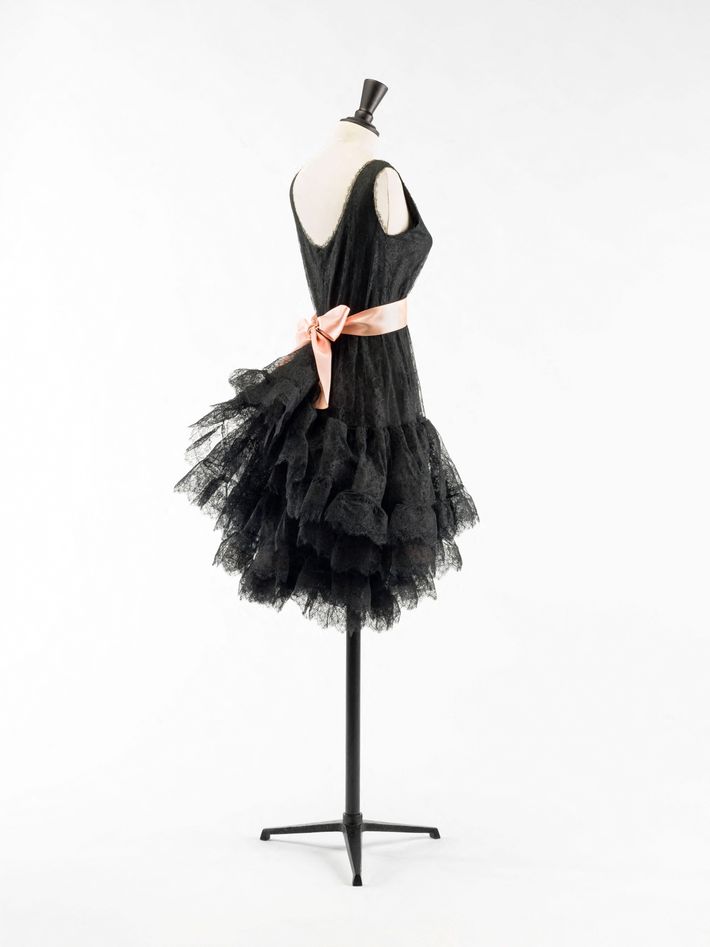 Balenciaga. Robe 1964. Dentelle noire, ruban de satin rose.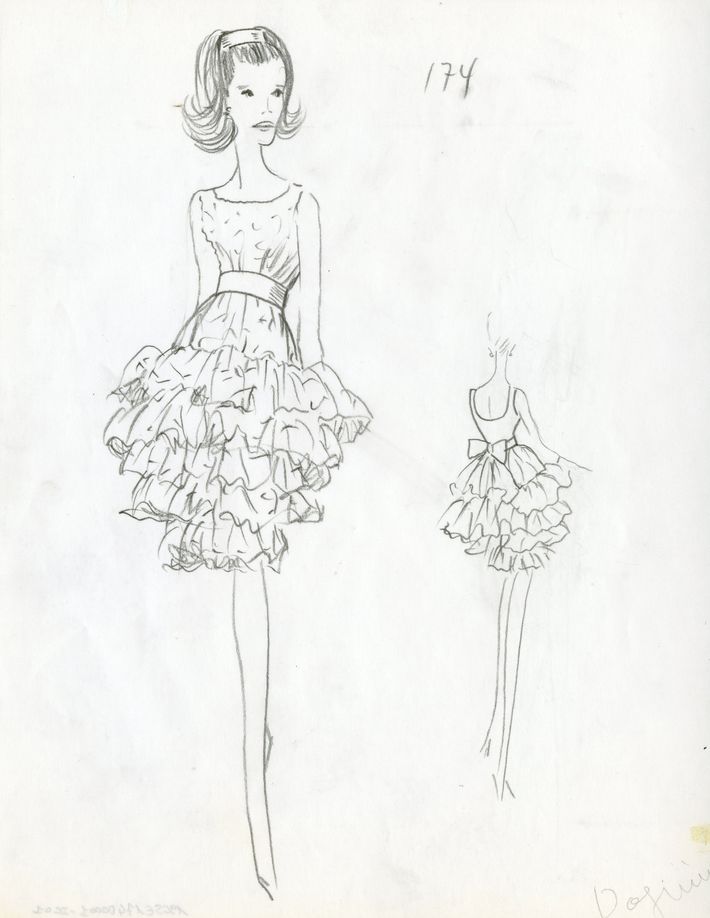 Balenciaga. Illustration de collection, été 1965, robe de cocktail en dentelle noire, ceinture en ruban de satin rose.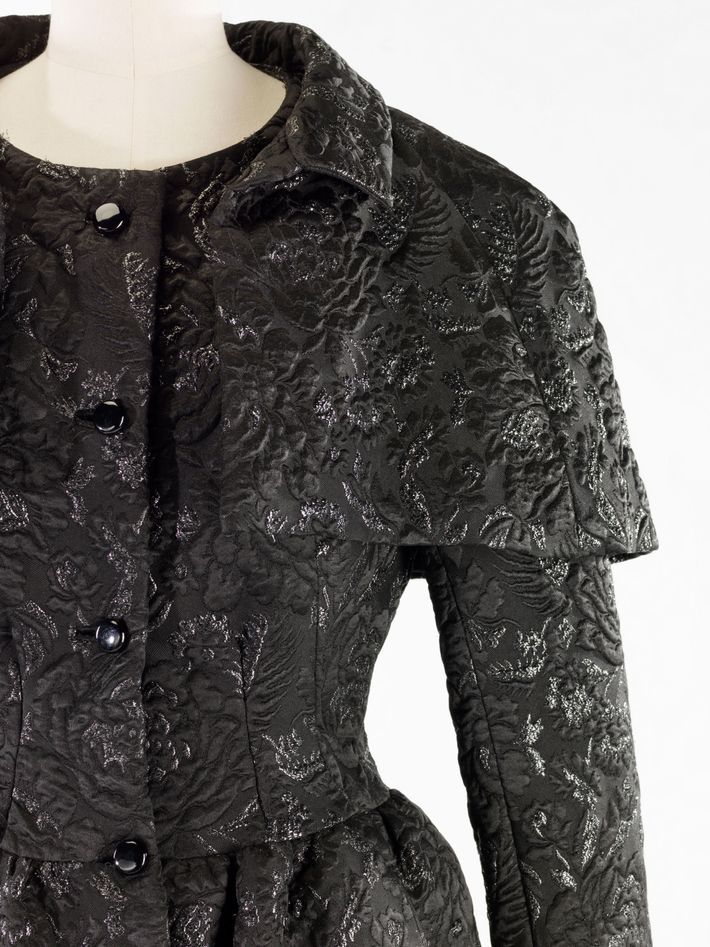 Balenciaga. Veste et robe 1968. Cloqué matelassé lamé Lurex.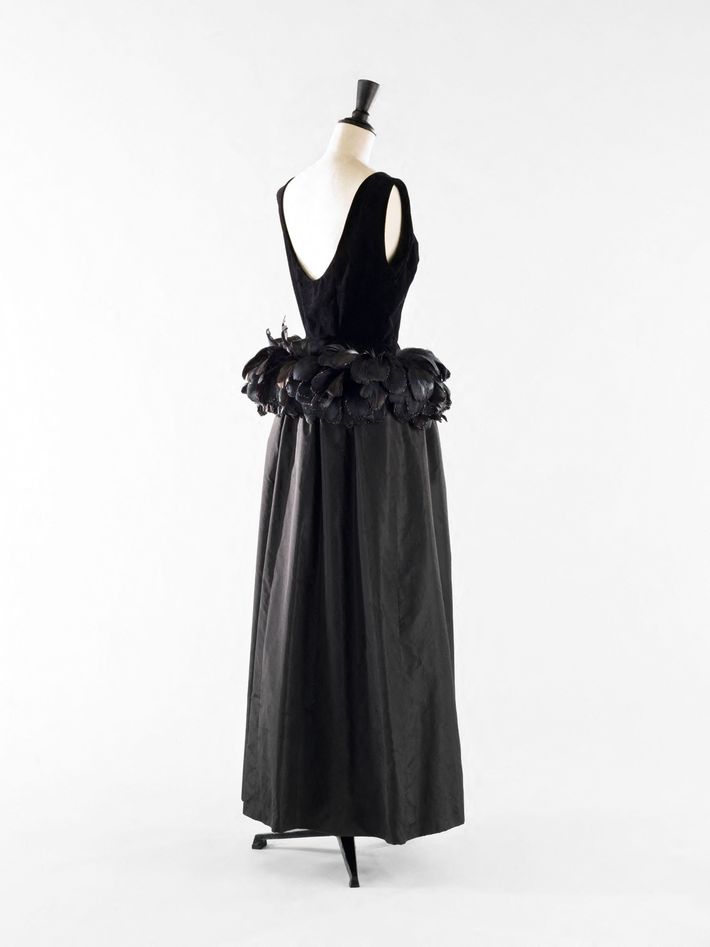 Balenciaga. Robe 1965-1966. Corsage en velours, jupe en taffetas, plumes de coq noires pailletées.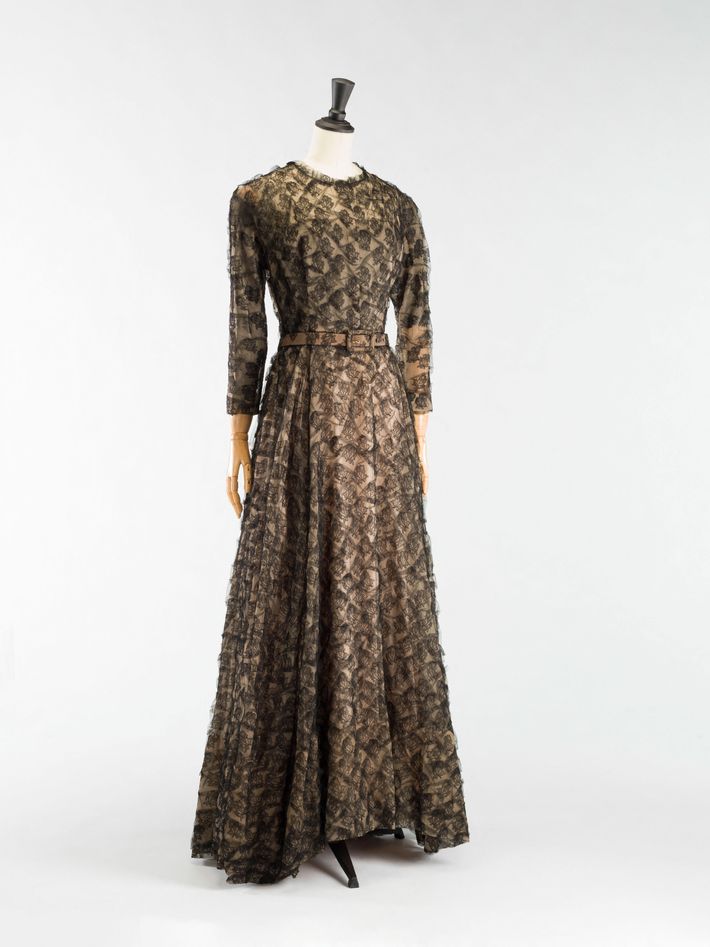 Balenciaga. Robe 1950. Dentelle mécanique noire sur organza chair.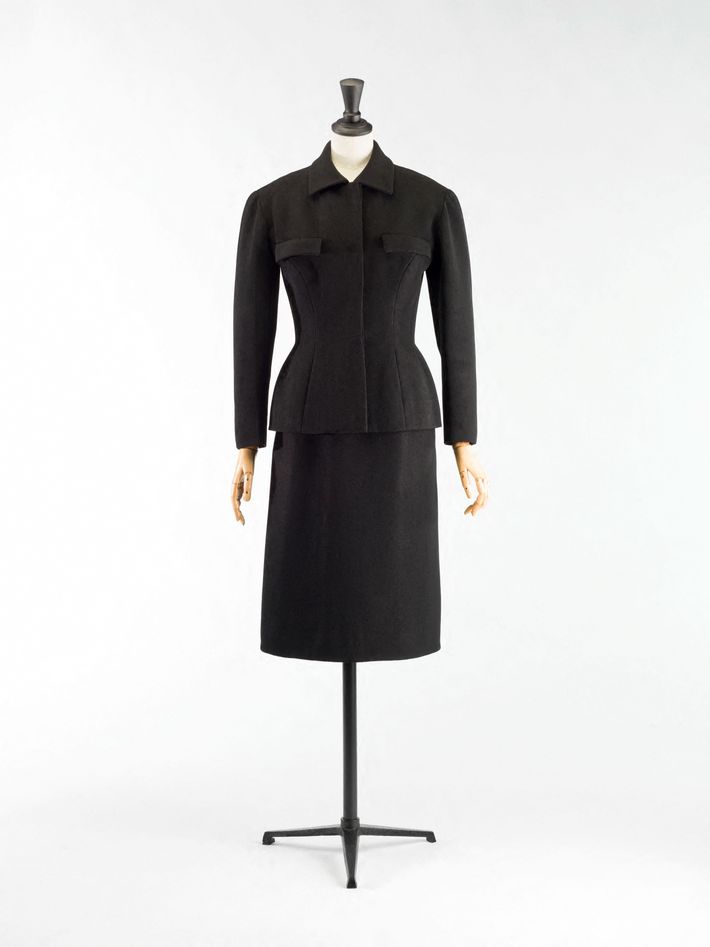 Balenciaga. Tailleur 1952-1953. Crêpe de laine noir.