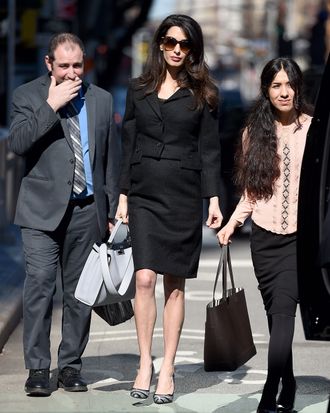 Amal Clooney and Yazidi survivor of ISIS trafficking, Nadia Murad.
Photo: Robert O'Neil/Splash News
International human-rights lawyer Amal Clooney — who is expecting twins with actor husband George Clooney — was photographed outside of the United Nations headquarters on Wednesday. And, given that she is a pregnant woman out and about in the world, press coverage decreed that with every step she took, she was "showing off her baby bump."
Motto, Time Inc.'s site aimed at millennial women, announced: "Amal Clooney Shows Off Her Baby Bump at the United Nations."*
People went with the headline: "Amal Clooney Rocks the Baby Bump on International Women's Day Ahead of U.N. Speech."
The Daily Mail went with the more verbose option of: "She's starting to show! Pregnant Amal Clooney shows off twins baby bump as she heads to the UN."
Besides the baby-bump business, Clooney is also hanging around the U.N. to urge them to investigate ISIS for genocide.
Update: On Friday morning, a Time Inc. spokesperson emailed to note that the headline had been changed to "Amal Clooney Addresses United Nations on ISIS."