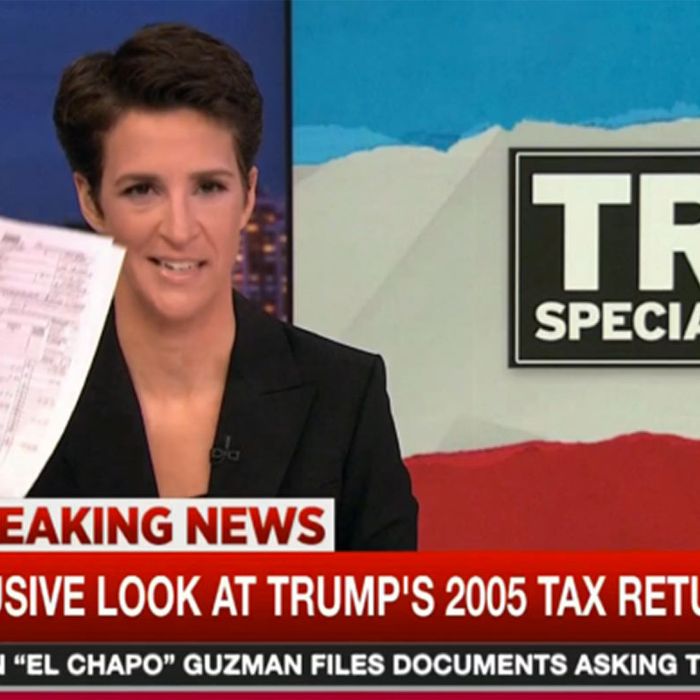 Rachel Maddow during the big reveal.
An hour and a half after she posted a tantalizing tweet, Rachel Maddow appeared on air with two pages from President Donald Trump's 2005 tax returns. But before keying viewers into the contents of the documents, Maddow gave a lengthy preamble that many on social media found … frustrating.
It turns out the only concrete information in the tax return was preempted by the Trump administration itself, which released a statement before the show aired saying that Trump made over $150 million in 2005 and paid $38 million in taxes. Some called the revelation "overhyped" and critiqued Maddow for her delivery. "In journalism, it's called 'burying the lede,'" wrote Washington Post media columnist Margaret Sullivan, while Slate called the whole thing a "cynical, self-defeating spectacle."
But according to Nielsen data, Tuesday's episode of The Rachel Maddow Show was the most-watched of all time, with 4.1 million viewers. It also beat out every other cable TV show that aired that night, including ABC and Fox programming during the 9 p.m. hour.
The show also drew more younger viewers to cable news — according to Vulture, the show "notched a 1.0 rating among adults under 50, more than doubling her usual demographic skew and tripling the demo rating for usual cable news leader The O'Reilly Factor (0.32)." It's almost like Maddow knew exactly what she was doing.