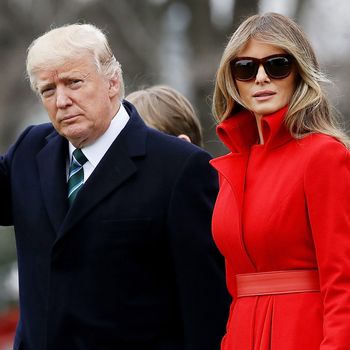 Donald and Melania Trump.
Photo: Justin Sullivan/Getty Images
There's been much speculation about whether or not Donald Trump, 70, and wife Melania, 46, can stand to be around each other. Some have pointed to clips of the president and first lady interacting awkwardly as evidence of their true feelings, while others have taken Melania's choice to not move into the White House immediately as proof that she's deliberately trying to avoid seeing her husband every day. (The latter has officially been chalked up to their decision to have son Barron finish off the school year in New York.)
But even Melania's move to D.C. in June may result in the first couple keeping their distance. Per what sources tell Us Weekly, they don't sleep in the same bed:
Multiple sources claim that the former fashion model — who's currently living 200 miles away from Washington, D.C., in NYC's Trump Tower while Barron finishes the school year — refuses to share a bed with Donald even on the rare occasions when they sleep in the same city. "They have separate bedrooms," says another Trump insider. "They never spend the night together — ever." (A third source says the couple do sleep in the same room but keep separate beds: "It's very 'royal' of them!")
According to a 2016 GQ profile, "Melania has said the key to the success of her marriage is separate bathrooms." But in this case, maybe Donald just can't stop getting Lay's crumbs all over the sheets?