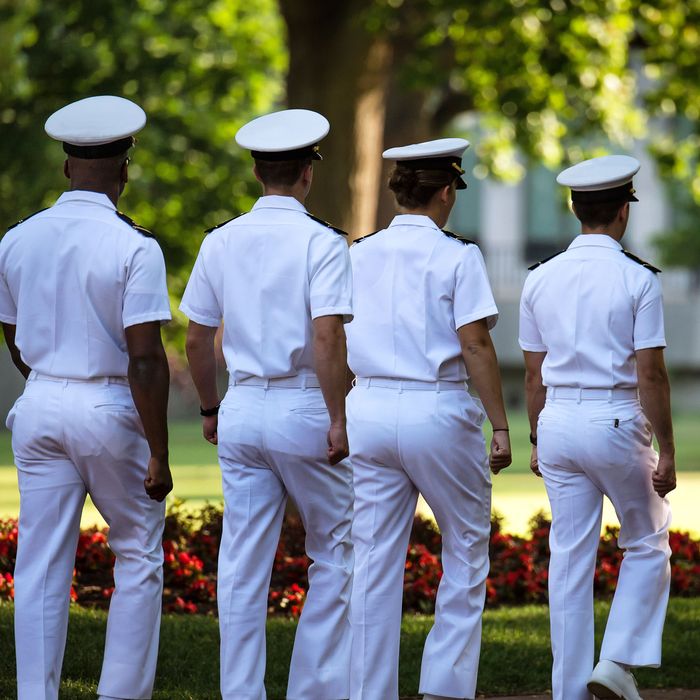 U.S. Naval Academy cadets.
Photo: John Greim/LOOP IMAGES/Getty Images
Two of the major military academies in the U.S. have seen an increase in reports of sexual assault, the Associated Press reports. An anonymous survey conducted every two years has also shown that there has been a hike in sexual misconduct at three of the academies, according to the AP.
Sexual-assault reports rose at the U.S. Naval Academy in Annapolis, Maryland, and the U.S. Military Academy at West Point, New York, according to the AP. Pentagon and military officials reportedly view the hike as a positive trend, since it may mean that students are becoming more comfortable reporting assaults and may have more confidence that the system will help them. But in contrast, such reports actually dropped at the U.S. Air Force Academy in Colorado, which received 49 reports in 2015 and only 32 in 2016.
Yet, an anonymous survey obtained by the AP showed that more assaults and crimes are actually occurring on these campuses. The survey found that 12 percent of women and almost 2 percent of men experienced unwanted sexual conduct — an increase from 8 percent of women and 1 percent of men just two years ago. The largest increases, according to the AP, were also at the Navy and Army academies.
The AP notes that a "vast majority" of students participating in the survey said they didn't file a report on the assault they'd experienced because they didn't "consider it serious enough." Women largely said they took steps to avoid the perpetrator after the assault, while over one-third of the male respondents said they confronted the assailants.
Officials are reportedly unsure of why sexual misconduct has increased at the academies, though some suggested to the AP that it may be because new student populations come in every four years, student leaders may be unwilling to emphasize and enforce assault prevention among their peers, and prevention messages could be "lost" amidst the many centering on social behavior (such as not drinking and driving). Nate Galbreath, deputy director of the Pentagon's sexual-assault prevention office, told the AP that the Pentagon is encouraging academies to spend more time discussing how future leaders can inspire climates of respect.