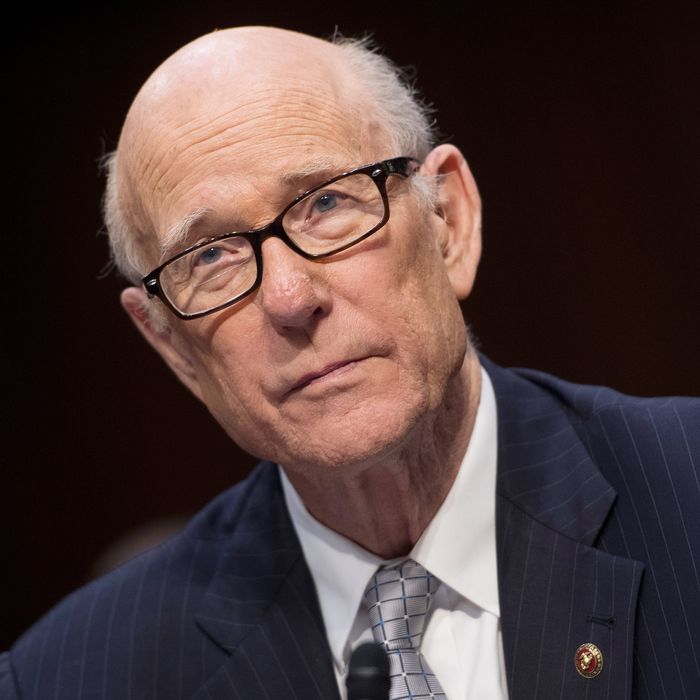 Senator Pat Roberts.
Photo: JIM WATSON/AFP/Getty Images
On Thursday, as Republicans scrambled to make last-minute changes to the American Health Care Act, Senator Pat Roberts of Kansas was asked by Talking Points Memo about the demand from ultraconservatives that Obamacare's Essential Health Benefits mandate — which requires insurance plans to cover hospitalizations, maternity care, prescription drugs, and more — be scrapped from the bill. His response? A joke about losing his mammograms.
"I sure don't want my mammogram benefits taken away," the GOP lawmaker deadpanned in response to a question about whether he supported getting rid of essential benefits. The comment immediately prompted a response from Democratic Congresswoman Jackie Speier of California.
Shortly thereafter, Roberts issued an apology on Twitter, writing that he regrets his comment, and that "mammograms are essential to women's health."
Fun fact for Senator Roberts: Breast cancer doesn't only affect women. While the disease is 100 times less common among men than women, approximately 2,400 men in the U.S. are still diagnosed with invasive breast cancer each year, and 460 die from the disease annually. Mammograms — which are x-rays of the breast — are used to detect cancer in women, sure, but the technology is also one of the ways the disease is detected in men.