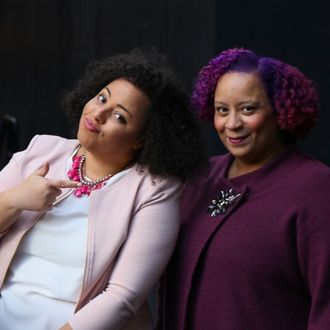 Marissa Jenae Johson and Leslie Mac.
Photo: Safety Pin Box
Since the safety pin trend launched after the election, a lot of people have tried to profit from it — from Etsy artisans to luxury brands. But amidst the corporations trying to figure out how to capitalize on white Americans' desire to broadcast their solidarity in the Trump era, one company is doing something different: Safety Pin Box is the brainchild of two women of color who were frustrated with the superficial display of white activism. If white people really wanted to be allies, they wondered, would they be willing to do more than pin a piece of metal to their shirts? And if so, what would that look like?
Marissa Jenae Johnson and Leslie Mac created Safety Pin Box to find out. The monthly subscription service challenges its users to do more with their outrage than display it, and in exchange for $50–$100 a month (depending on the program) receive not a pin, not a pussy hat, but a lesson about racial bias and a task to tackle it. Plus, their cash contributions fund black-women activists, in an attempt at reparations. Three months later, Safety Pin Box has 800 subscribers and has contributed nearly $21,000 to Black Women Being. Both Johnson and Mac have quit their jobs to focus on the project full time.
The Cut spoke with Johnson about the success of their company, what they've observed about allyship since the election, and what reparations for people of color can mean in 2017.
When you first noticed the safety pin trend, what did you think? And why did you decide to take action in this very specific way?
The whole safety pin thing started happening right as we were going on vacation to Jamaica, right after the election. Leslie and I both separately kind of laughed at it because after everything, the Black Lives Matter movement, immigration, the Dakota Access pipeline, that the response was wearing a safety pin?! We just sort of laughed it off as a very clear display that folks did not know how or did not want to actually show up in ways that mattered. Halfway through our trip, when we started to see the bumper stickers and necklaces on Etsy, we had a conversation about how the commercialization is not only problematic in its own right, but that all of these things are most likely just going to [benefit] privileged white people. And that's what brought us to say, if people want to actually do something useful, they can pay us reparations. And we can literally tell them what to do even though we've already been telling them, and they haven't been listening.
Explain how Safety Pin Box works. If someone signs up, what do they get?
We wanted to come up with different options for different levels of engagement. The $25/month subscription box is an electronic form of solidarity, with one emailed task per month and exclusive calls to action. The $50/month subscription box is more like a pen-pal partnership between two white people that collaborate on tasks for the month together. Our $100/month subscription is a premium box and you get three full tasks, access to our biweekly podcast, and quarterly webinars with high-profile black women. Every package is able to connect on our Facebook group and live Q&A where they get to ask questions, and there's a lot of conversation on there about what people's experiences are like on their tasks, where they feel like they're falling short, etc.
What do you know about your subscribers? Who are they?
If you use the term 'all lives matter,' you're not our target customer; our target customer is the one who understands that race is a problem, feels like they can't sit on the sidelines anymore, and doesn't know where to begin.
What tactics do you use to make sure subscribers stay engaged and keep learning every month?
Each box has a different theme and tasks accordingly; December was 'Radical Compassion.' One of our tasks that month was showing compassion for black elderly people, so we had subscribers look at the lifetime outcomes of the black elderly in their community versus their white counterparts. One of our subscribers wrote in that month about going to their local senior-citizen center, and since he's an Uber driver he decided to give them a free ride to the grocery store or the doctor. For the 'Not my President' box in January, one of our tasks was called 'Am I a Safe Place?' because the idea behind wearing a safety pin is saying that you're a safe haven for marginalized communities, but we really broke that down to see how you are physically able to provide safety for people if they really needed it. And for February's 'Black History Month' box, one of the tasks was all about trying to go back and look at black women in the abolitionist movement, their relationship to white suffragettes, and thinking about how we can honor their legacy today. March is 'Marsha P. March' in which we're hoping to raise funds for the new Marsha P. Johnson institute that will provide awareness of her prominence as a black transgender woman activist.
So you push them outside their comfort zones. What's the response been like?
They really struggle sometimes. There's the person they think they are, and there's the person that we're asking them to be, and that's new to a lot of people and it's challenging. We want to be a resource and capture this energy of people wanting to do something, and the Safety Pin Box to be the answer because it's a way to not only convert those feelings into action, but provide capital for black women activists, too.
Tell me about where the money from subscribers goes?
The money that we make every month goes to Black Women Being, that gives straight cash to black women activists. We do fund some other group projects and activist groups on the side, but our main giving every month is through Black Women Being. We basically see how much we have left at the end of the month and pick a number of people that we can give gifts to, and draw randomly from our pool of applicants. Black Women Being is a simple application and [we] designed it that way because we didn't want to give money based on how many followers you have, or how known your name was, or even if your work isn't necessarily the kind of activism we would participate in. Our belief is that we should be financially sustaining black women because they'll do great work in the community rather than judging a woman's work and paying them after the fact. Everyone prospers if you give black women money.
The program has grown so quickly. Were you surprised with its success?
Yes! When we first started the project we thought it would be just that, a project. We figured it was worth pursuing because even if we were able to get a little bit of money for other activists it would be more than what is currently done now. Really early on it became clear that this project was a full-fledged business, and we are so excited and pushing for more. We think it just goes to show that there's a demonstrated need for what we have to offer, and nobody else can or does offer it better!