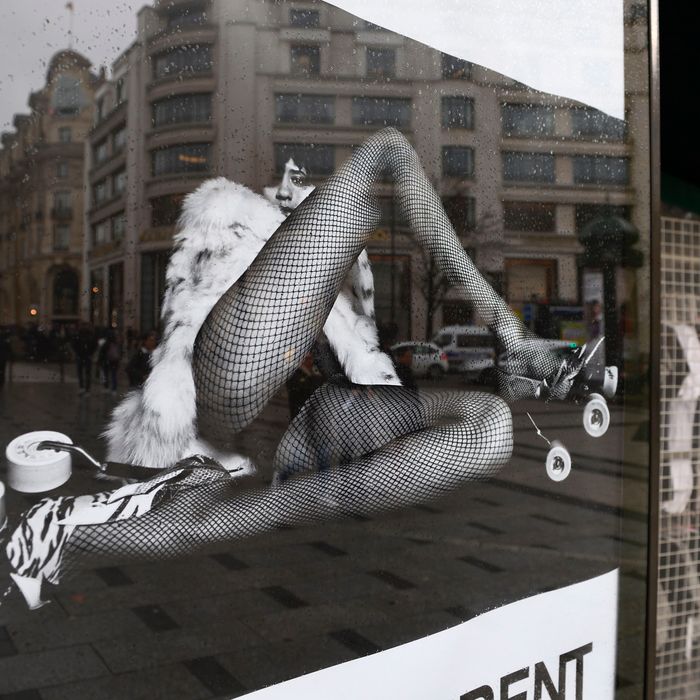 One of the Saint Laurent ads in question.
Photo: ERIC FEFERBERG/AFP/Getty Images
Saint Laurent just got a slap on the wrist from the French advertising authority. Reuters reports that the watchdog group ARPP (Autorité de Regulation Professionnelle de la Publicité) has asked the brand to modify two of its ads after receiving over 50 complaints that they were degrading to women. One of the ads, shown above, shows a woman in fishnets with her legs spread while the other shows a model bent over. ARPP head Stephane Martin told the wire service that "we asked the brand and the ad displayer to make changes to these visuals as soon as possible."
Some Twitter users also vented their complaints, noting that the timing with International Women's Day was ill-conceived, and using the hashtag #YSLRetireTaPubDegradante (YSL, withdraw your degrading ad.)

The brand has faced criticism for its ad campaigns in the past — in 2015, the U.K.'s Advertising Standards Authority banned a Saint Laurent ad for featuring what they deemed an "underweight" model.

We've reached out to Saint Laurent's parent company Kering for a comment and will update this when we hear back.