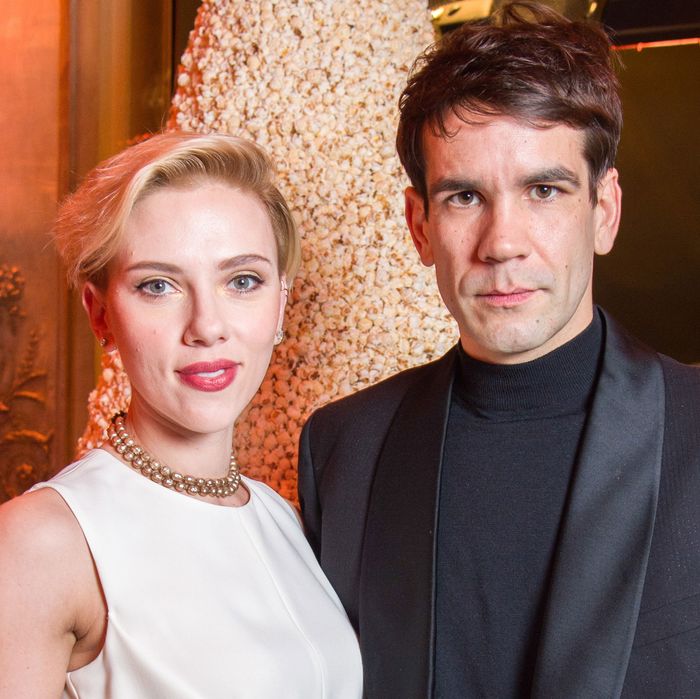 Scarlett Johansson and Romain Dauriac.
Photo: Pascal Le Segretain/Getty Images for Yummy Pop
When news broke that Scarlett Johansson split with French husband Romain Dauriac back in January, it initially seemed like everything was cool between the gourmet-popcorn entrepreneurs. But on Tuesday, Johansson officially filed for divorce, and now the two are fighting over custody of their two-year-old daughter, Rose Dorothy. The actress has requested residential custody, while Dauriac claims he should be the one to get custody of the little girl, since Johansson travels a lot for work.
Shortly after filing, the actress issued a Wednesday statement explaining that as a working mom and private person, she will never comment publicly on the matter. The statement reads:
"As a devoted mother and private person and with complete awareness that my daughter will one day be old enough to read the news about herself, I would only like to say that I will never, ever be commenting on the dissolution of my marriage. Out of respect for my desires as a parent and out of respect for all working moms, it is with kindness that I ask other parties involved and the media to do the same. Thank you."
But that same day, Dauriac's attorney Hal Mayerson spoke about the divorce with E! News, saying that the French journalist and art dealer believes he should have primary residential custody of the young girl because of Johansson's job. "There are many cases where the fathers do a lot of traveling, and if they were to raise this same issue, you would you laugh. You can't hide behind a suit or a dress — it's what's in the best interest of the child," he said.
Mayerson continued, "He wants her to be involved with her daughter, desperately, but you can't have schedules switching all the time. How do you explain that to a child? She's allowed to have her career, and there will be a certain degree of flexibility — but not to suit her schedule or Mr. Dauriac's. It will be one that suits the child."
Dauriac issued a statement asking Johansson to withdraw her divorce action, while a "source" told People that the actress's filing was "not a hostile act."