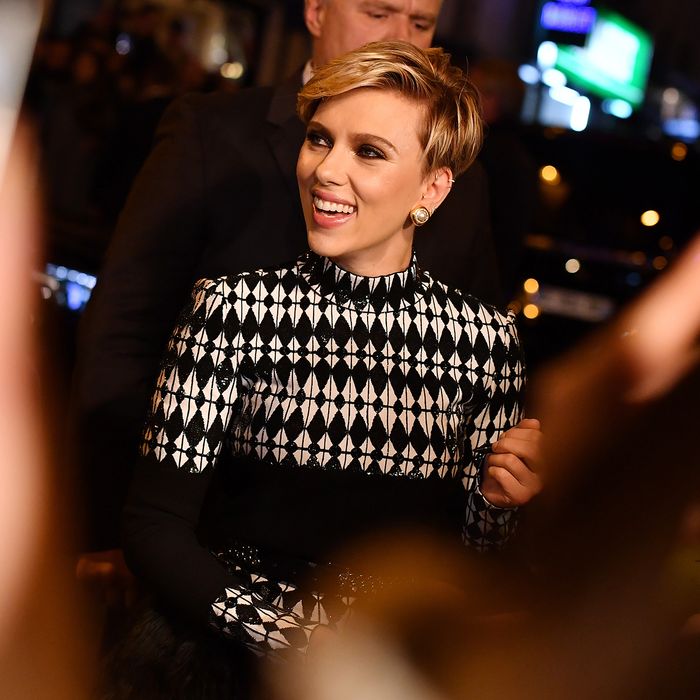 Scarlett Johansson.
Photo: Pascal Le Segretain/Getty Images For Paramount Pictu
It's been a busy few months for Scarlett Johansson. After a hectic schedule in 2016, she's kept up the pace this year with film screenings and promotional interviews for her latest film, Ghost in the Shell. And with news of her recent split from Romain Dauriac also making headlines, Johansson has been finding ways to talk — and not talk — about her family and career in the press. The most recent example of this comes via an interview promoting Ghost in the Shell Johansson did with E! News. In it, she says that while she had a very busy schedule during filming for Ghost, she was also still nursing her daughter and the mother-daughter interaction helped her keep her cool.

"That is a very grounding [thing, to nurse]," she said. "If you ever needed to return to yourself, that is a pretty wonderful way to come back to yourself when you go home." She later added, "You have to leave all that work stuff behind and be able to present with your kid. I am very thankful that's my reality at the end of the day."
Earlier this year Johansson filed for divorce from Romain Dauriac, a French journalist and art collector. While the former couple initially smiled and posed for photographs in the press following news of their split, by early March things took a turn. The two are now fighting for custody over their daughter Rose Dorothy, with each claiming that they should get primary residential custody. The two are now taking different tactics with the press. After Johansson declared she wouldn't comment on the proceedings, Dauriac's lawyer spoke to the press about his rationale for seeking custody. Johansson, Dauriac's lawyer said, has a hectic travel schedule that isn't ideal for the child. While Johansson may not respond publicly to the claims, she gave a subtle answer to E! News when discussing scheduling and motherhood. Let's just say that she disagrees with the insinuation that she's too busy to care for her daughter.