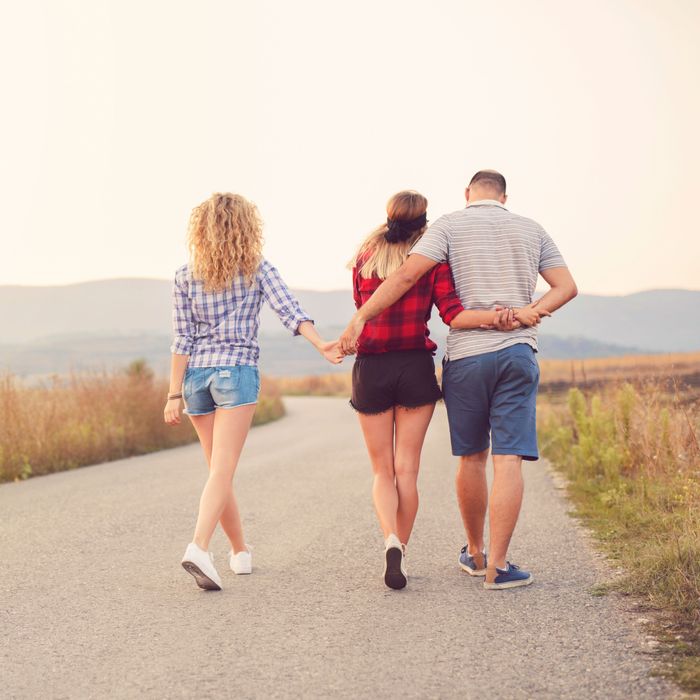 Photo: Srdjan Pavlovic/Getty Images
In the prologue to her new book, What Love Is and What It Could Be, philosopher Carrie Jenkins is walking through Vancouver, from her boyfriend's apartment to the home she has with her husband. She wonders at how the romantic love she experiences firsthand is so different than the model presented by popular culture and academic theory alike. "If indeed romantic love must be monogamous, then I am making some kind of mistake when I say, 'I'm in love with you' — meaning romantically — to both my partners," she writes. "I am not lying, because I am genuinely trying to be as honest as I can. But if romantic love requires monogamy, then despite my best intentions, what I'm saying at those moments is not, strictly speaking, true."
Her book examines the long, sometimes awkward legacy of philosophers' thinking on romantic love, and compares that with a new subfield in close-relationships research — consensual nonmonogamy, or CNM. While singers and thinkers alike have been riffing on a "one and only" for decades, she argues that space is being made in the cultural conversation to "question the universal norm of monogamous love, just as we previously created space to question the universal norm of hetero love." These norms are more fluid than they appear: In Jenkins's lifetime alone, same-sex and cross-ethnicity relationships have become common.
When I asked Jenkins to describe how it feels to have both a husband and a boyfriend — she rejects the "primary relationship" moniker altogether — she said that it's like having more loving relationships in your life, like a close family member or friend. She and her boyfriend, whom she's been with for about five years, used to work in the same building; he was teaching creative writing on the floor above her philosophy department, though they didn't meet until they matched on OkCupid. While both men have met each other, they're not close; Jenkins describes the relationship as having a "V shape," rather than a triangle. Both helped in the development of the book: husband refining philosophical arguments; boyfriend editing the writing, and helping her to sound like a normal person, rather than an academic.
Still, CNM faces lots of stigma; even the study of it is stigmatized. Yet in the limited yet rich vein of research out there, the evidence suggests that it's a style that, in some populations, leads to greater relationship satisfaction than monogamy. In any case, the researchers tell me, the insights into what makes more-than-two relationships work can be applied to any given dyad, given the communicative finesse required when three or more hearts are involved.
In a forthcoming Perspectives in Psychological Science paper, Terri Conley, a University of Michigan psychologist who's driven the field, defines CNM as "a relational arrangement in which partners agree that it is acceptable to have more than one sexual and/or romantic relationship at the same time." That's distinguished from the "polygamy" practiced by some religious groups, where it's not always clear whether wives can opt out of the relationship.
I was surprised to discover how common it is: A 2016 study of two nationally representative samples of single Americans — of 3,905 and 4,813 respondents, respectively — found in each case that about one in five people had practiced it during their lifetime. A 2016 YouGov poll found that 31 percent of women and 38 percent of men thought their ideal relationship would be CNM in some way. Other research indicates that around 4 to 5 percent of Americans in relationships are in some sort of CNM, be it swinging, where partners have sex with people outside their relationship at parties and the like; an open relationship, where it's cool to have sex with other people but not grow emotionally attached to them; or polyamory, where both partners approve of having close emotional, romantic, and sexual relationships outside of the couple itself. People are curious, too: From 2006 to 2015, Google searches for polyamory and open relationships went up. Other data points to how sticking to the boundaries of monogamy doesn't come easily to lots of people: A 2007 survey of 70,000 Americans found that one in five had cheated on their current partner.
Jenkins says that as a tenured philosophy professor at the University of British Columbia, she's in a unique, privileged position to openly talk about being in a nonmonogamous marriage. She'd been interested in being in more than one relationship ever since she can remember, but it used to seem like some sort of impossible dream situation — she didn't realize it could be an option in her real life until she was about 30. (She's now 37.)
Jenkins met her husband, Jonathan, who's also a philosopher, back in 2009, at a philosophy workshop that he organized at the University of St. Andrews in Scotland; they later got married in the same hall the conference took place. They took one another's last names as middle names.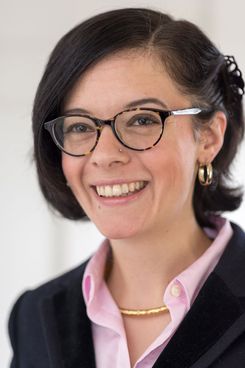 Now married for almost eight years, they talked about polyamory early on, though defining the relationship that way came later. As philosophers are wont to do, they soon wrote a bit of a manifesto about their arrangement. They observed that even if their wedding guests were woke in any number of ways — not batting an eyelid if a colleague was gay or bi, eschewing heteronormative assumptions, and the like — there's still the shared assumption that a nonmonogamous relationship is less sexually safe and less committed than a regular ol' monogamous one. "[E]ven our very liberal pocket of our relatively liberal society is massively — and, to us, surprisingly— mononormative," they write. "Acquaintances, friends, and colleagues are constantly assuming that our relationship, and indeed every relationship that they think of as 'serious', is a sexually monogamous one."

To Jenkins, the biggest struggle with polyamory isn't from managing multiple relationships — though Google Calendar is a crucial tool — but rather the strong, sometimes violently negative reactions that she gets, especially online. When I spoke with her by phone, she was struck by a comment to a YouTube interview of hers, where a pseudonymous user invited "everyone" to read her column in the Chronicle of Higher Education about having multiple loves.
"THIS WOMAN IS A DISGUSTING ANIMAL," the troll wrote. "Every bit as twisted and queer as the Mormons with their multiple lives [sic]. This femme-pig is the spectral opposite of Trump; a far far left-wing freak that desires to completely overthrow Western Christian Civilization." Jenkins walked me through a deep reading of the bile: Bundling in politics — the "left-wing freak" bit — with the monogamy norms signals to her that there's a judgment of what it means to be a good person in here, since politics is about living correctly, collectively. Plus "if you're an animal, you're out of the range of humanity," she says. She's also gets a lot of "get herpes and die, slut" suggestions, she says, which speaks to the hypersexualization of CNM. Nonmonogamy leads to lots of sex, the presumption goes, and with that STIs, and it proceeds from there. The way news articles covering CNM tend to be illustrated with images of three or four people in a bath or bed doesn't help, either.
"The way we normally think about romantic love, we don't imagine that it's entirely about sex," she says. "For a lot of people sex is a part of it; if we're just having a hookup or a friend with benefits, we don't call that romantic love. When it comes to polyamorous relationships, if you're in love with more than one person, the same applies — to fall in love with someone is not the same as to sleep with them. We're clear with that distinction in monogamous relationships, but in CNM that distinction between love and sex gets collapsed."
In that forthcoming Perspectives in Psychological Science paper, Conley finds that 103 participants recruited online thought that researchers who wrote positive things about polyamorous people were more biased — in line with recent data indicating that when laypeople read about research that conflicts with their social identity, they're more likely to think the scientists doing the work are biased.
Researchers who have studied stigma around CNM have found lots. In a 2012 paper, Conley and her colleagues found that monogamous relationships were better rated on every metric by different sets of the population, including nonmonogamous people. When 132 participants recruited online read relationship vignettes that were identical except for one being monogamous and the other not, the CNM was seen as riskier sexually, more lonely, less acceptable, and having a lower relationship quality. People in CNM were also seen as worse with non-relational things, like making sure to walk their dog or paying their taxes on time. Amy Moors, a co-author on the paper, says it had some of the biggest effect sizes she's seen in her research. Elisabeth Sheff, a leading polyamory researcher who left academia for lack of grant funding, now frequently serves as an expert witness in custody battles; she says that often a grandmother or a former spouse will find out that a co-parent has multiple relationships, be scandalized, and demand to take the kids — even though her longitudinal research, reported in The Polyamorists Next Door: Inside Multiple-Partner Relationships and Families, indicates that kids who grow up in polyamorous families aren't any more screwed up than average American children.
That same paper finds that there were no differences in relationship functioning between monogamous and nonmonogamous couples. People in CNM had lower jealousy and higher trust and higher sexual satisfaction with their partner. Polyamorists were more satisfied than people in open relationships, perhaps because it's hard to block of feelings for people you sleep with frequently. Polyamorous people were a special case, with higher satisfaction, commitment, trust, and passionate love than monogamous individuals, and higher sexual satisfaction. CNM people also had higher sexual satisfaction with their secondary partners than their primary partners, though that difference fell away when controlling for relationship time, with primary relationships averaging three times the length of secondary relationships.
"Overall, the standard for human responses for relationships is habituation," Conley says. "That involves a loss of sexual attraction, and we can tell that from stats from therapy. And to the extent that a couple is frustrated sexually, it spills over to other parts of life."
There are other explanations for high satisfaction scores for polyamorous people, she adds. It could be that they're just acting out a social desirability bias, given that they're participating in a study about CNM and want the lifestyle to look good; it could also be that people who enter into polyamory have self-selected themselves into a hypercommunicative population — all the poly self-help books emphasize the need to explicitly talk things out. "People interested in polyamory are more relationship-y than the average person," she says. "They like thinking about relationships, talking about relationships. That's great in monogamy, but needed in polyamory."
All this suggests the kind of people that are the right fit for CNM. Beyond being relationship-y, a Portuguese study out this year found that people with a high sociosexuality, or disposal to casual sex, had less relationship satisfaction when in a monogamous relationship, but those effects disappeared if they were in CNM. Still, they were just as committed to their relationships — signaling that exclusivity and commitment may not be one and the same. Harvard sexologist Justin Lehmiller has found that people who are more erotophilic — i.e., that love sex — will be a better fit for CNM; same with if they're sensation-seeking.
Amy Moors, the Purdue psychologist, has found that people with higher avoidant attachment — where you're just not that into intimacy — have positive feelings about and a willingness to engage in polyamory, but they were less likely to actually partake of it. While a correlational study, Moors explained that from a subjective perspective, it makes sense: "When you have avoidant attachment, you like a lot of emotional distance, physical distance, time by yourself," Moors says, which is not a fit for the relationship-y remands of a poly lifestyle. Also, there's reason to believe that folks who have relational anxiety, and are thus sensitive to separation, might be prone to the jealousy that's known to flare up in CNM, though it's not like that doesn't happen in monogamy, too.
What motivated Jenkins to write What Love Is, she says, was a gap — or silence — in the philosophical literature, that polyamory was rarely discussed or even acknowledged as a possibility. "Noticing these philosophical silences and denials, while simultaneously being made aware of how society at large viewed me for being a polyamorous woman, made me realize there was something important here that I needed to do," she says. "To do it meant bringing my personal life and my philosophical work into a conversation with one another. The familiar slogan says that the personal is political, but the personal is philosophical, too."
Two key themes emerge from reading the book: that love is dual-layered, with social scripts overlaying evolutionary, physiological impulses. And that the "romantic mystique," like the feminine one before it, assumes that love is mysterious and elusive and corrupted from examination — a sentiment that protects the status quo. But with investigation, and conversation, the mechanics of love reveal themselves, and norms can change socially, and be tailored locally. Like Jenkins, you can custom-fit your relationships to your life — if you dare to talk about them.
Update: An earlier version of this post reported a finding that people practicing consensual nonmonogamy and polyamory each have lower sexual satisfaction than the control group. Updated data suggests that they have higher.