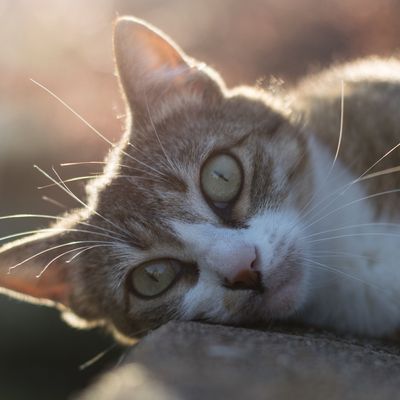 Even to self-proclaimed cat people, cats are something of a mystery: They're aggressively cool, aloof loners, animals whose attempts to communicate with humans — the purrs and meows and that rubbing-against-your-legs thing they do — don't have a clear meaning. If you think you know what your cat is thinking, or why they're doing whatever it is they're doing, there's a decent shot you're wrong.
But as Jonathan Gitlin recently wrote in Ars Technica, a team of researchers is trying to make your cat just a little less inscrutable — by studying its poop. Kittybiome, a Kickstarter-funded citizen science project (or, as the fundraising page calls it, "kitty-zen science"), works like this: Interested cat owners fill out a survey about their cat's environment, health, and behavior; send away for a sampling kit; take a scoop out of the litter box; and send the sample back. Some time later, they receive a detailed analysis of the different bacterial strains living inside their pet.
Which, in the long run, may help scientists build a better understanding of what makes cats tick. There's a reason researchers refer to the gut as the "second brain": The trillions of bacteria in your digestive tract can have a powerful influence on your physical health, mental health, and even things like your mood and food choices. But "while much of the microbiome research to date has, understandably, focused on the relationship between these microbes and humans, animals have their own microbiomes," Gitlin wrote; the Kittybiome researchers are "applying the techniques refined in humans to understand more about the cats and dogs with whom many of us share our lives." And the more microbiome samples they gather, the more complete picture they can build of the relationship between what a cat does and what lives inside its body — something that might even be worth scooping poop for.