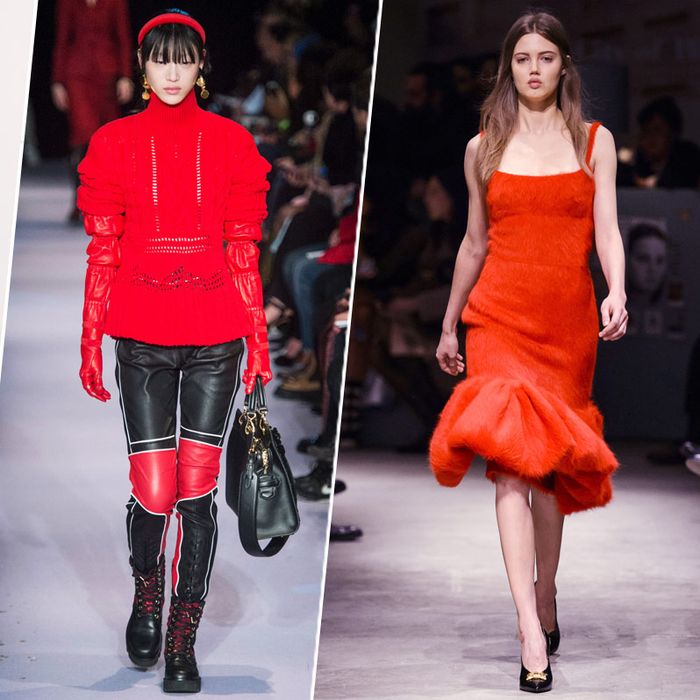 In the classic 1850 Hawthorne novel The Scarlet Letter, adulteress Hester Prynne is made to wear a garishly bright "A" as a symbol of her transgressions. The "A," as we know, is for adulteress, the scarlet is for sin. Indeed, it's a color that's ubiquitous in literature and popular culture for its manifold meanings. The symbolism-rich shade is also the color of love (and liking on Instagram), passion, the devil, rage, bullfighting, blood, courage, communism, the labor movement, "STOP, " and Republicans. It's associated, too, with that most masculine of planets, Mars, and conversely with the recent A Day Without a Woman movement, which was spearheaded by the organizers of the Women's March. This campaign, which took place on March 8, called on women to wear red and effectively strike for the day as a protest against gender inequality in the workplace — a response to a political situation that literally has women seeing red. The color drenched social media on that day, with Instagram feeds blowing up with messages on brightly hued backgrounds or images of participants flaunting their crimson getups in solidarity. The shade was chosen, according to the group, to represent "revolutionary love and sacrifice." And it also happens to be fashion's most popular color for fall.
Part of red's allure (and power) is that it's largely about being seen. In the weeks preceding A Day Without a Woman, designers gave us an eyeful. Valentino's Pierpaolo Piccioli showed stunning red gowns (a house signature), while Givenchy's design team conjured an all-red collection —literally — that was a crimson-steeped homage to erstwhile creative director Riccardo Tisci's opus for the brand. Proenza Schouler embraced the color, pairing it with black in their nouveau take on bandage dresses, and Altuzarra, Max Mara, Tod's, Prada, and many more also joined the ranks of fashion's red army. Indeed, designers let us know that this is not a time to shrink and hide, but a time to be brave; to stop and think hard about who we want to be.
It takes some major chutzpah to wear a turbo-charged color from head to toe, especially one so attention-grabbing as fire-engine crimson. So how, then, should you actually wear it this fall? Raf Simons at Calvin Klein showed ketchup-red color-blocked with bright blues, a particularly strong statement given they're both primary colors, simultaneously warring —there's Mars again — and upping each other's power.
And though anything Raf does will surely be catching, according to a slew of other designers, the winning way to show your red pride is head-to-toe and layered. More is more here. You want to be visible. Highly. And it seems there are few things more head-turning than pairing, say, a scarlet pair of trousers with a red turtleneck and matching suede trench coat, with accessories in the same family. There are two ways to go about this — the more ambitious, exact-matching scenario (as seen at Givenchy) or the more achievable one in which each article of clothing is a slightly different rougey shade (Ryan Roche). Just keep it crimson and you'll go far.
Want strong, masculine tailoring? You can have that from Max Mara, Armani, or Tod's. Something seductive and feminine? Prada has you covered with its sizzling short and structured numbers. And if you're feeling romantic, look to Brock Collection's dreamy off-the-shoulder gowns. The Brock designers intended their fall offering to be about a mix of revealing day-to-day moments and magical, romantic ones. The latter idea was delivered in the form of a Valentine-red, off-the-shoulder gown one could imagine wearing while descending a spiral staircase on her way to a gala with her beloved. After all, now more than ever, aren't we all in need of a little bit of magic?
If you're feeling less daring, a bold red boot or shoe is a subtler way to dip a toe into the trend. Perhaps you'd enjoy a pair of fitted red ankle boots from 3.1 Phillip Lim or a point-toed pair from Altuzarra. For a slightly deeper commitment, go for a thigh-high from Fendi. Wear a higher boot with a knee length skirt or dress — preferably printed; an ankle boot looks equally fetching with a longer skirt (also printed) or the season's cropped pants. Designers from Givenchy to Balenciaga also showed pumps — the former's stilettoed and strappy, the latter's festooned with a retro chain and pearl motif, sure to please fashionistas in search of a strong shoe statement. Tights seem to be officially back, and can either match your red shoes (Givenchy) or stay neutral (Balenciaga). And for the rest of the outfit? Try a short or mid-length dress or a skirt. (Shorts over tights, not happening; save the longer dresses for your boots.)
No matter if you're looking to stand out, make a statement of solidarity, or add some color to your life, the point is there's something for whatever kind of woman you want to be.