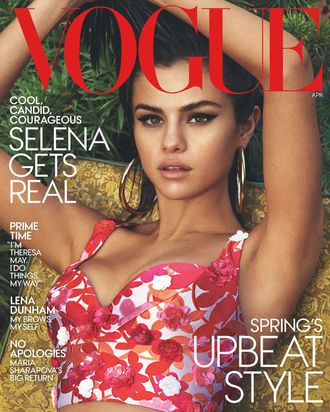 Selena Gomez on the April cover of Vogue.
Photo: Vogue
Selena Gomez checked into a psychiatric facility in Tennessee last summer after announcing that she was taking a yearlong break from music to focus on the anxiety, panic attacks, and depression she had apparently been suffering as a side effect of lupus. In a new interview with Vogue, Gomez opens up about her treatment, and about continuing to see a therapist five days a week since leaving the facility.
The "Hands to Myself" singer abruptly checked into rehab during her "Revival" tour, canceling the 30 concerts she had remaining on her schedule. "Tours are a really lonely place for me. My self-esteem was shot. I was depressed, anxious. I started to have panic attacks before getting on stage, or right after leaving the stage," Gomez told Vogue. "Basically I felt I wasn't good enough, wasn't capable. I felt I wasn't giving my fans anything, and they could see it — which, I think, was a complete distortion."
Once she checked in to the facility, Gomez says she surrendered her phone and spent the next 90 days participating in a program with individual therapy, group therapy, and equine therapy. She made her first post-treatment appearance at the American Music Awards in November, and she's continued to get therapy. Per Vogue:
She sees her shrink five days a week and has become a passionate advocate of Dialectical Behavior Therapy, a technique developed to treat borderline personality disorder that is now used more broadly, with its emphasis on improving communication, regulating emotions, and incorporating mindfulness practices.
Gomez told Vogue that DBT has "completely changed" her life, and that she wishes more people would speak out about therapy. "We girls, we're taught to be almost too resilient, to be strong and sexy and cool and laid-back, the girl who's down. We also need to feel allowed to fall apart," she said.