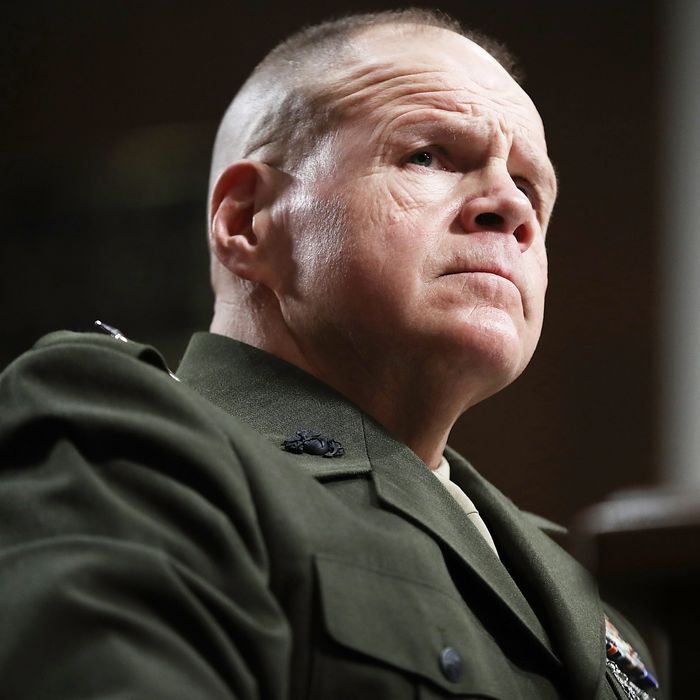 General Robert Neller addressed the Armed Services Committee today.
Photo: 2017 Getty Images
When news broke that male Marines were sharing hundreds of nude (and clothed) photos of female service members in secret Facebook groups, the military almost immediately launched an investigation into the matter. But even after the scandal made headlines, photos are reportedly still being shared in at least two Facebook groups. And lawmakers aren't happy.
General Robert Neller, commandant of the Marine Corps, addressed the Senate Armed Services Committee on Tuesday, where he received a stern dressing-down from lawmakers, in particular Senators Kirsten Gillibrand and Jeanne Shaheen.
In his opening remarks, Neller said he was committed to ending the scandal and added, in response to the reminder that female Marines were cyberbullied in 2013, "I'm not ignorant anymore, I'm trainable, and I accept responsibility for that."
But Shaheen wasn't so sure. "This committee has heard these kinds of statements before," she said, according to NBC. "It's hard to believe something is really going to be done. Why should we believe it's going to be different this time than it has in the past?"
"We have countless victims who have come forward, and they're not just being harassed online," Gillibrand added. "Once their name, face, where they're stationed is posted, do you think the harassment ends online? It doesn't … so I have to say when you say to us, 'It's got to be different,' that rings hollow. Who is being held accountable for doing nothing since 2013?"
She went on, "If we can't crack Facebook, how are we supposed to be able to confront Russian aggression and cyber-hacking throughout our military?"
In response to Gillibrand, Neller gave what he called a "lame answer:" "This is a problem with our culture," he said. "I don't have a good answer for you … We're going to have to change how we see ourselves and how we treat each other."