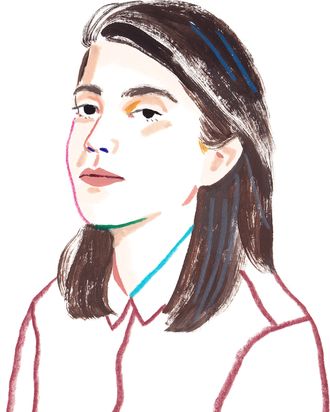 Fabi Reyna, editor-in-chief of She Shreds.
Illustration: Rebecca Clarke
Fabi Reyna is the 25-year-old editor-in-chief and founder of She Shreds, a magazine for female guitar players. She started the magazine as a zine five years ago in Portland, and it has since grown to a staff of five people. She plays guitar in three different bands, and her New Year's resolution is to practice guitar at least four or five hours a week. She receives about 50 emails a day, and wants to start getting into documentaries and podcasts about the history of female guitar players. Here's how she gets it all done.
On a day in the life of a guitar player in three bands who also happens to be the editor-in-chief of a magazine:
I try to wake up by eight, 8:30, and then maybe drink some coffee. My office is walking distance from my house. I try to walk to work but it's usually raining in Portland.

I'm not usually the kind of person to have to-do lists — I'll do everything at once and then I'll be like "what did I actually get done?" But lately, I've been trying to write up to-do lists and pick three or four things to get done. Sometimes that happens in three hours, sometimes it happens in eight. I do so many jobs at once, and usually I get interrupted. At our office, we have bands come in and that's super fun, and as part of my job, I get to go to guitar shops a lot, which I obviously love.
My day-to-day changes. I do a lot of brainstorming. I still post to our Instagram because I don't trust anyone to do that yet. I book shows, I book festivals, and I'm the only person responsible for finding our money, making sure partnerships and sponsorships are up to date. Without money, we can't exist! I'm also always working on how to expand, whether that means seeing us at booths at festivals or much bigger projects. Plus, I do a lot of little things that suck, like sending out the mail.
At the end of my work, I go boxing. That's really the only routine I've ever had. I've been boxing since I was 13. I'll box for an hour a day, and about two or three times a year, I'll have a sparring event. I also go to a lot of shows, which is cool because that's part of my job. From the minute I wake up to when I go to sleep, I am involved in music in some way. I'm in three bands, so I try to dedicate as much time as I can to playing guitar and practicing.
I probably go to sleep at 2 or 3 a.m. I'm still only 25, so I like to party and stay out late and socialize with people in my community. I think one of the things that I love about what I do is that I get to talk to some of my favorite bands and become friends with them.
On how she finds time to practice guitar when she's busy running a magazine about guitars:
Playing guitar is definitely something I've been trying to balance and juggle with everything else I've got going on. It's something that I need to do for me to be happy. I can't do She Shreds if I'm not playing music. I feel that being a musician and constantly learning about the instrument and being able to relate to my audience helps the magazine stay true to who we are. Instead of releasing more content that we don't know what we're talking about, staying authentic is something that is really important to me.
On celebrating an important milestone of the magazine:
She Shreds is about to hit our fifth year. Something people should understand is that, when I started the magazine, I had just turned 20. I was just a musician. I hadn't gone to college, I didn't know any of the skills needed to start a magazine. My thinking went from being like, "This is going to be zine, it's going to be fun, it's for my community" to "How do I sustain this business, how do I manage people, how do I delegate?" Then I learned it could be sustainable, that I have people who are invested in this, and we have to keep it going for them. We are the voice of a movement in the guitar industry. People are looking at us to as an example of inclusivity, as an example of how to speak and represent women. The guitar industry is a business, and in order to survive, it needs to be forward-thinking. They need to be held accountable for who they serve.
There is a lot more pressure now that we're in our fifth year and thriving, but it's still fun. All those struggles have always been fun. As soon as it stops being fun, I won't do it anymore. It's so crazy that it's been five years. I've grown so much. The biggest thing, though, is that I can't believe that I had this in me. I had a vision that I wanted to do this, and then I actually did it. I now have the tools and I know how to continue.
On how she's seen the guitar industry change over the past five years:
Young people — women or men — want inclusivity. They want a different language. They want a different image. There are way less advertisements with naked women. That's one of the first things I noticed. Another thing is that these magazines are actually trying to create informational lessons for people who are not just shreddy bros. They're trying to create educational plans for all styles, genres, and backgrounds. Those are the conversations I'm having. It's something that is growing and has been the most rewarding to see. The guitar industry is actually starting to listen.
On what she sees as the next big project for a magazine that started as a small community zine:
On staff at the magazine, we have four people plus me. We have 200-plus contributors a year. We still have a lot to do on a base level. I think at this point She Shreds could go anywhere. I want to do documentaries next, whether podcasts or video. I'm really eager to create that history. I want to discover the history of female guitarists and put it out there into the world. It's important that people know that it wasn't just Jimi Hendrix and Eric Clapton, or — what's that guy's name? — see, I don't even remember the other guy's name. I don't even care. We're the guitar heroes. There were so many others besides these dudes you always hear about, there were so many women.
At this point, we can say whatever we want, but ultimately if the big companies in the industry aren't shifting to include us and document our history, then nothing is going to happen. I was talking to a dude at a big company recently and he asked me if I'd heard of this band, which was, of course, a band of all dudes. I was like, "Sorry, I don't know much about male guitar history, and I don't really care to. Don't tell me or ask me about these bands because I just don't know them." He got it.
On the biggest challenge she faces as the boss:
None of this job is easy. Getting partnerships, obtaining money, selling ourselves. The place where I get the most stressed out, though, is making sure that I'm happy with my personal life while also staying up to date with She Shreds. She Shreds is my life, my whole, whole life. I breathe it. I live it. In order to not burn out, I need to figure out where that divide is. I haven't quite figured it out yet.
On what keeps her going every single day:
First and foremost, I love that I get to provide this space for people. To see other women, women of color, nonbinary people, and trans women come to She Shreds and talk about gear and learn about guitar and talk to each other. That's the absolute best feeling. The second most fulfilling thing is to see a bunch of executive white dudes look at that community and be like, "That's dope, that's what we need. That's what we need in this industry." Most often they actually get it. They totally see why we all need that community in the guitar industry. We are consumers. We do have power in this economy. We want more people to recognize that as female guitar players and bass players, we have that power, and we aren't going anywhere.