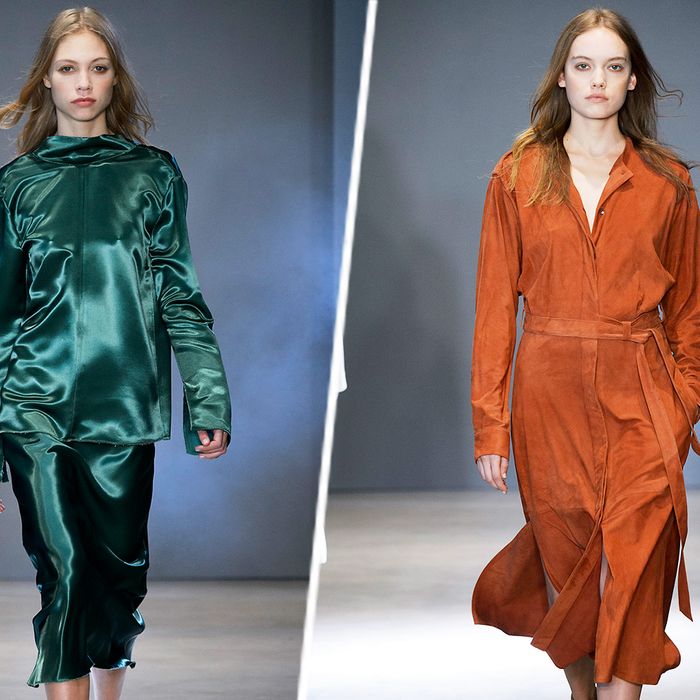 Most sample sales require you to be in New York, preferably at the crack of dawn so you get first dibs on the good stuff. But the Tibi sample sale is very different. It's a favorite for good reason: It's one of the few where you can get straight off-the-runway pieces for significantly less without being physically present in NYC. Plus, they're actually wearable even if you don't work in a super creative environment. The current sale includes styles from their pre-fall and fall 2016 collections anywhere from 60 to 80 percent off retail prices. It starts today and ends on Thursday but don't dawdle: Not every piece has tons of sizes left so make those buying decisions quickly.
If you need some help, scroll down to check out our top buys.
Photo: Fernanda Silva
A simple silk shirt like this is a great piece to have in your wardrobe. In green, it adds rich color while the design is super versatile: Wear it casually with jeans or try it with a skirt on special occasions.
Original price: $450
Photo: Fernanda Silva
Linen pants are very trendy right now on Instagram, seemingly becoming the new pants of choice for influencers instead of the usual jeans. If that sounds intriguing to you, try this loose-fitting, high-waisted pair.
Original price: $345
Photo: © 2015 Geoff Green ALL RIGHT RESERVED
There's only a bit of winter left (hopefully) but that doesn't mean you can't make a smart purchase for next winter. Not only is the gingham print classic, they're a great option to have on hand when you want to give your outfit a special finishing touch.
Original price: $650
Photo: Fernanda Silva
There are many reasons to love this suede dress but here are our top three: It's lightweight, so you can wear it most of the year; the soft brown color is a beautiful neutral; and the wrap silhouette is classic.
Original price: $1,395
Photo: Fernanda Silva
Usually sample sales don't include the really expensive items from the runway like shearling and fur, so this is a surprising find, especially at 60 percent off. If you're looking for a smart splurge, this is it.
Original price: $2,800
Photo: Fernanda Silva
Every season Tibi makes this v-neck ruffle dress because it's such a huge hit. It's made from a heavier silk that drapes nicely, feels soft to the touch, and won't cling to your body.
Original price: $495
Photo: Fernanda Silva
A smart investment to consider would be a really nice coat. This wool military-inspired style has beautiful gold hardware that makes it look way more expensive than it is. Plus, the silhouette is universally cool and stylish.
Original price: $1,195
Photo: © 2015 Geoff Green ALL RIGHT RESERVED
Even if you prefer to buy inexpensive sandals, you'll eventually need a fancier pair to wear to events. These are a great option since they're 100 percent leather. They also come in blue and black, should the pink be too bright for your taste.
Original price: $445
Photo: Fernanda Silva
Can you ever have enough work-friendly blouses? Nope. This one is perfect for the spring since it's made from a light, breathable fabric that isn't see-through. Plus, the bell sleeves differentiate it from everything else in your closet.
Original price: $395
If you buy something through our links, New York may earn an affiliate commission.