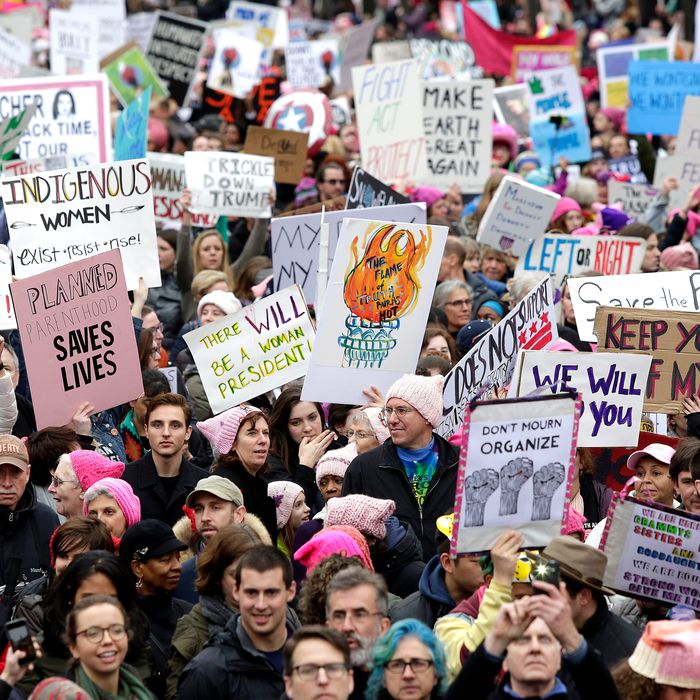 Women are set to strike on Wednesday.
Photo: JOSHUA LOTT/AFP/Getty Images
On Wednesday, women across the world are set to go on strike (if they're able) for "A Day Without a Woman," an international event organized by eight grassroots activists and feminist scholars. But two young sisters apparently want in on the action as well, and wrote notes to their principal asking to be excused from school so they could participate in the strike.
As Mashable pointed out, a mom named Laura Moreschi posted an image to Twitter of a letter her 10-year-old daughter wrote to her principal, after a dinner discussion about civic engagement. "I would like to participate in 'The Day Without Women' protest," the letter reads. "I am going to write a letter to the editor, contact my congress man, and do whatever I can to make my voice heard [sic]."
Moreschi's 7-year-old wrote a similar note to her principal as well, which the mother also posted online. The little girl wrote, "I will write letter's to my representives. I will do my work ahead of time. I think this day is in portent and I hope you do to [sic]."
If Moreschi's daughters are excused from classes on Wednesday, they won't be the only kids missing school on account of the strike. So far, a school district in North Carolina, as well as one in the Washington, D.C., suburb of Alexandria, Virginia, have cancelled classes to accommodate the strike.