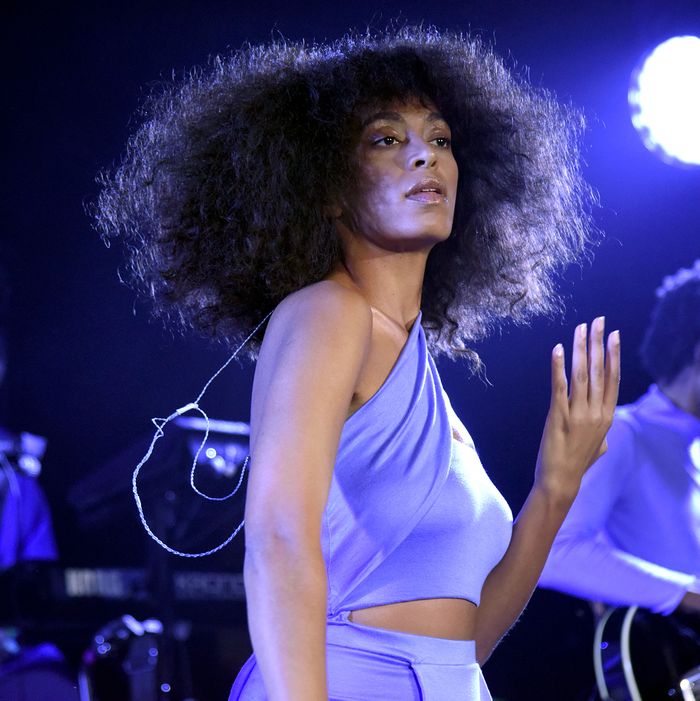 Solange.
Photo: Tim Mosenfelder/Getty Images
Solange has no qualms about embracing the label "feminist." In the latest issue of Bust magazine, the singer-songwriter discusses how she identifies as a "proud black feminist and womanist." In doing so, Solange makes it clear that she embraces the social theory of womanism that advocates for centralizing the experiences of black women and other marginalized groups. But she doesn't rely on the terminology to make her point. Instead, she tells the magazine she wants to help ensure that intersectional feminism is practiced.
While she's proud of the work that's been done to advance women's rights, there's still more to do, she told Bust:

"I'm a feminist who not only wants to hear the term intersectionality, but actually feel it, and see the evolution of what intersectional feminism can actually achieve. I want women's rights to be equally honored, and uplifted, and heard…but I want to see us fighting the fight for all women — women of color, our LGBTQ sisters, our Muslim sisters. I want to see millions of us marching out there for our rights, and I want to see us out there marching for the rights of women like Dajerria Becton, who was body slammed by a cop while she was in a swimsuit for simply existing as a young, vocal, black girl. I think we are inching closer and closer there, and for that, I am very proud."

Solange added that she's thankful for other black feminists and scholars who've allowed her to be "a student" in informal ways. Much of her education, she told the magazine, came from learning from other women she encountered in her mother's hair salon or, whom she simply learned of via the internet. "I'm really grateful that I'm also a student of black feminists and womanists … and of women who have created this terminology for us to use as we carve out this space" she told Bust. "That is one of the beautiful things about the internet. I'm a high-school educated woman. And I rely on incredible women like [the groups Crunk Feminist Collective and Black Women's Blueprint] … to really guide me through the process of carving out my feelings, and how I articulate them."

The latest issue of Bust magazine is on newsstands now.