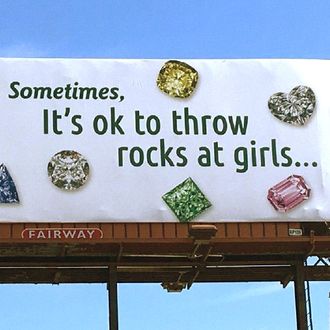 The billboard in question.
Photo: WLOS_13/Twitter
It's been a big year for controversial billboards in the state of North Carolina. A month after a mysterious billboard that read "Real Men Provide, Real Women Appreciate It" inspired protests, another piece of highway signage is in the news.
This time, it's a Spicer Greene Jewelers ad near Asheville that features a variety of jewels with the words, "Sometimes, it's OK to throw rocks at girls." Critics have since said that it's misogynistic and promotes violence against women.
Chelsea Clinton responded on Twitter, writing, "Talking about hitting girls is never funny. Ever." And along with plenty of online outrage, about 15 people protested outside of the store on Sunday, holding signs that read, for instance, "Violent words lead to violent action. Don't shop here."
According to the Washington Post, this isn't even the first time usage of that phrase has proved controversial for a jewelry store: A Calgary jewelry store found itself in hot water because of it back in 2015, yet the owner remained unapologetic. (The phrase itself was trademarked by Sawyer Jewelers, Inc., based in Michigan, in 2016.)
Spicer Jewelers changes its billboards every four weeks, and it's still unclear if this one will come down early. However, they did post an apology to their Facebook page, and co-owner Eva Michelle Spicer said they would donate 10 percent of Sunday sales to a local shelter for domestic-violence victims.
Spicer also said, "We certainly didn't mean harm by it," and that the idea came from her 60-year-old aunt and 87-year-old grandmother over Thanksgiving dinner.