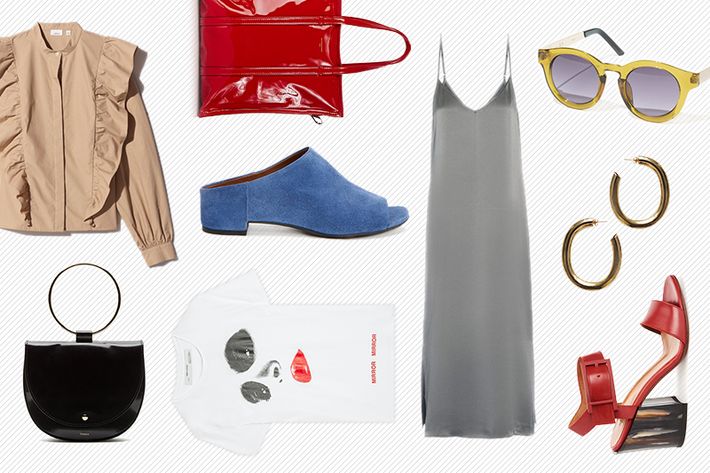 New York City destroys shoes – this fact is as inarguable as the superiority of our water. And spring comes with a unique set of elements and activities that endanger our footwear, as well as the rest of our outfits (and bodies). So we've plotted out what to wear for four scenarios that entail just such conditions. (Even if you're not a city-dweller, you probably go outside and walk sometimes, so take note.) Scroll on for the carefully strategized looks, built around Aquatalia shoes that seamlessly marry style and function.
Work Commute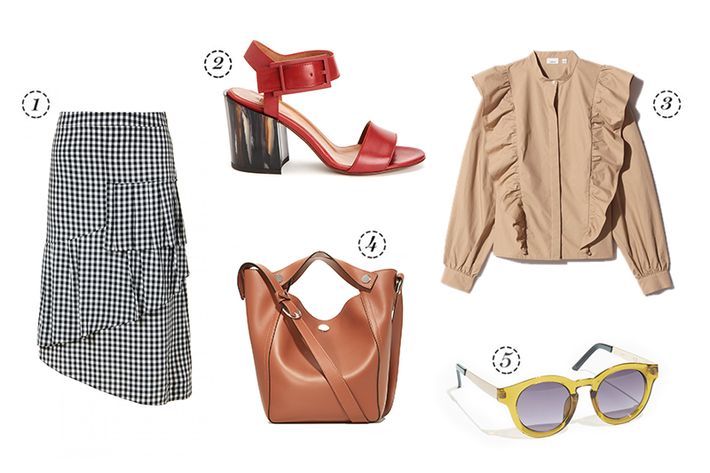 Whether you walk to work or are subject to the mass-transit hustle, supportive footwear is essential. Step it up in a sea of sneakers (or, god forbid, "commuter flats") with a sophisticated sandal, as soon as the season allows. A chunky mid-heel and sturdy straps are key, along with a professional-leaning color and structure. Add a polished, long-strap tote to fit your lunch in, plus cheerful shades to optimize your sunny-day look.
1. Tibi Viscose Gingham Ruffle Skirt, $495 at Tibi; 2. Aquatalia Fredia, $450 at Aquatalia; 3. Wilfred Panthère Blouse, $98 at Aritzia; 4. 3.1 Phillip Lim Large Dolly Leather Tote, $1,050 at Nordstrom; 5. & Other Stories sunglasses, $39 at & Other Stories
Out Dancing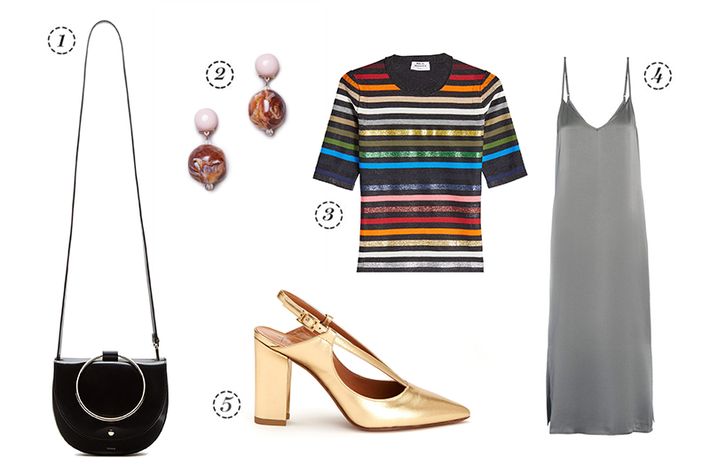 When you're not at work, you should be dancing. As winter's mulled wine by the fire gives way to sidewalk seating and not having to check your coat, your nightlife options are likely to increase manifold. Seize the chance to break free from black-boot monotony with a pair of pointy gold pumps: A block heel and protective closed toe are all the insurance you need to hit the dancefloor. That, along with a dress you can move in and a hands-free bag.
1. Theory Whitney Hoop Bag, $295 at Theory; 2. Rachel Comey Paso, $125 at Rachel Comey; 3. Sonia Rykiel Metallic Striped Pullover, $619 at Stylebop.com; 4. Equipment Anika Silk-Satin Midi Dress, $260 at Net-a-Porter; 5. Aquatalia Hartley, $450 at Aquatalia
Weekend Walking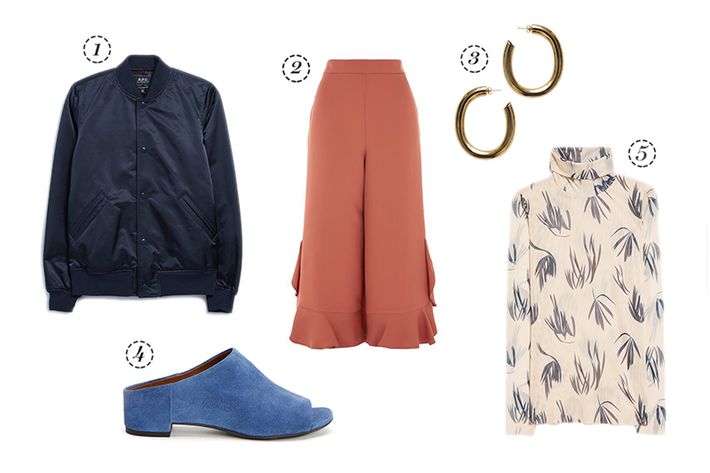 Milder days mean wandering around. Brunch turns into gallery hopping, then window shopping, then strolling along the waterfront. Prepare for an all-day hangout with a deceitfully comfortable shoe, like an on-trend mule with hidden cushioning, a hint of a heel, and a foot-stabilizing shape. (An open toe lets the breeze in; plus, they're easy to kick off in the grass.) For in-between temperatures, a light bomber and thin turtleneck are just right.
1. A.P.C. Blouson Avengers, $435 at mytheresa.com; 2. Topshop Frill Hem Crop Wide Trousers, $85 at Topshop; 3. Laura Lombardi Curve Earrings, $98 at Laura Lombardi Jewelry; 4. Aquatalia Adriana, $395 at Aquatalia; 5. Just Female Amory Rollneck Blouse, $108 at Need Supply
Transitional Weather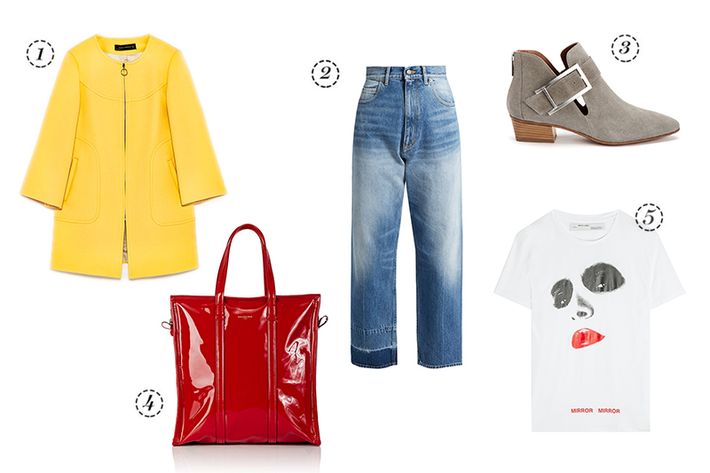 Spring can be kind of a mess. Downpours often turn into freakishly clear skies, making dressing appropriately a challenge. Thus, a savvy investment is a pair of weatherproof ankle boots that don't scream "rain gear." A neutral, everyday style in treated suede can be a practical outfit-saver. Otherwise, jeans and a tee are safe-ish for unpredictable elements, and a patent tote works for stuffing your umbrella into when the sun comes out.
1. Zara Round Neck Coat With Zip, $149 at Zara; 2. Golden Goose Deluxe Brand Kim Boyfriend Jeans, $282 at MatchesFashion.com; 3. Aquatalia Filomena, $495 at Aquatalia; 4. Balenciaga Bazar Medium Shopper Tote, $1,895 at Barneys New York; 5. Off-White White Face Ripped Tee, $296 at Off-White
Shop the full Aquatalia collection here.
This is paid content produced for an advertiser by New York Brand Studio. The editorial staff of The Cut did not play a role in its creation.