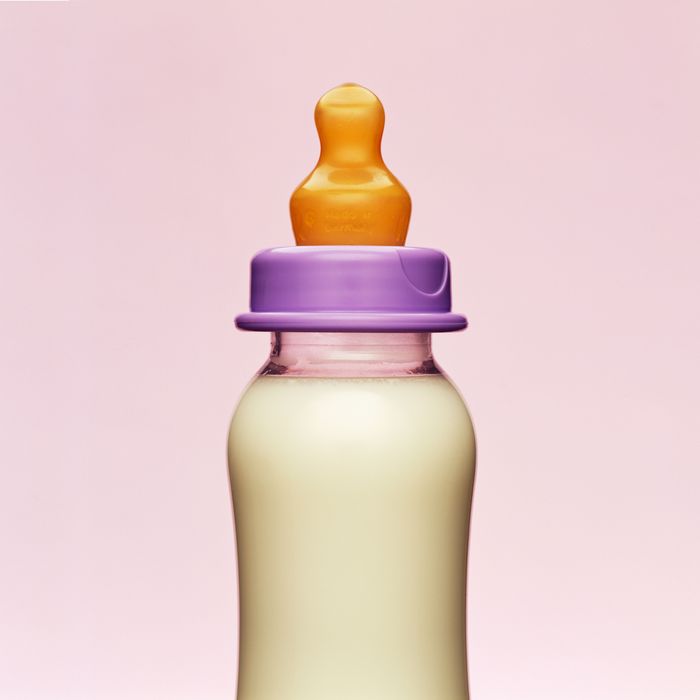 Photo: Jonathan Knowles/Getty Images
A company selling breast milk has had its exports from Cambodia suspended by the Cambodian government, Agence France-Presse reports. Ambrosia Labs, which claims to be the first company to make breast milk produced overseas available in the U.S., was the subject of a feature published on Broadly last week.
According to Broadly, Utah-based Ambrosia Labs set up a facility in a low-income area of Phnom Penh, Cambodia, for lactating mothers to pump their breast milk for a profit. To qualify, lactating mothers first had to breastfeed their own child for six months, then undergo medical screenings and a check-up. From Broadly: "The women receive around 64 cents for each ounce of their breast milk, and usually pump around 12 ounces per day," which works out to about $7 a day. For its American customers, Ambrosia Labs' site lists a "Ten Pack" of five-ounce frozen milk packets at $200.
Kun Nhem, Cambodia's general director of customs and excise, reportedly told AFP: "We have asked them [Ambrosia Labs] to contact the Ministry of Health because the product comes from a human organ, so it needs permission from the Ministry of Health but they did not get it yet." When the news organization visited Ambrosia Labs' Cambodian site, they found it was closed, and mothers who claimed to have sold their milk there said they had not been given a reason why.
Ambrosia Labs' co-founder, Bronzson Woods, told Broadly paying women to pump breast milk extends the time they breastfeed their own children, plus provides an income opportunity for them, calling his company model a "win-win." Critics describe it as ethically questionable, saying it takes advantage of low-income women and lacks protections for them and their children.
One mother who sold milk to Ambrosia Labs explained her reasoning to Broadly: "I wanted the money, and I didn't have any money."
Both founders of Ambrosia Labs — Bronzson Woods and Ryan Newell — are men. A post from 2016 on their company's site calls them "not your typical fathers."

Update, March 22: Per the Guardian, Unicef has come out against Ambrosia Labs' practices, citing exploitation concerns.