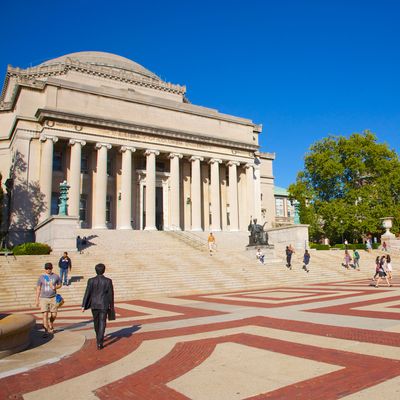 Columbia University.
Photo: Barry Winiker/Getty Images
Columbia University sophomore Amelia Roskin-Frazee has filed a lawsuit in Manhattan federal court against the school for violating Title IX after she says she was raped twice in her dorm room, BuzzFeed News reports.
Roskin-Frazee alleges that the first assault occurred in October 2015, two months after she entered school: she says she woke up to find a man raping her, passed out, and ultimately could not identify the perpetrator. The second alleged assault occurred in December as she was going into her dorm:
According to the complaint, the assailant — who Roskin-Frazee said she could not identify because the room was dark — proceeded to remove her clothes, tie her hands above her head to her desk chair with her underwear and an iPhone charging cord, and shove the shorts she was wearing in her mouth.

He then allegedly penetrated Roskin-Frazee with a hairbrush, a pair of scissors, and a razor, the complaint states, while allegedly whispering in her ear, "still a dyke?"
She was treated for her injuries at a local hospital, but says harassing messages (example: "Isn't it fun to wake up to someone fucking you?") were left on her building's bulletin board.
Roskin-Frazee says that she tried to move out of her dorm after the first alleged assault occurred, but the university told her she would have to pay $500, be out in 24 hours, and her parents would have to be told why the move was occurring. The lawsuit also claims that a nurse for the Sexual Violence Response Hotline "was unaware of [a student's] rights and options under Title IX or any ability to receive academic or housing accommodations."
After her second alleged assault, Roskin-Frazee says she tried to formally report it but, per BuzzFeed, "was told that Columbia would not be able to investigate her report unless she was able to identify her assailant." An investigation was eventually opened in September 2016 — though it was closed shortly afterward without, Roskin-Frazee claims in her suit, any interviews taking place or building-swipe logs reviewed.
Roskin-Frazee told reporters on Tuesday, "To be blunt, I'm suing Columbia because I'm angry."