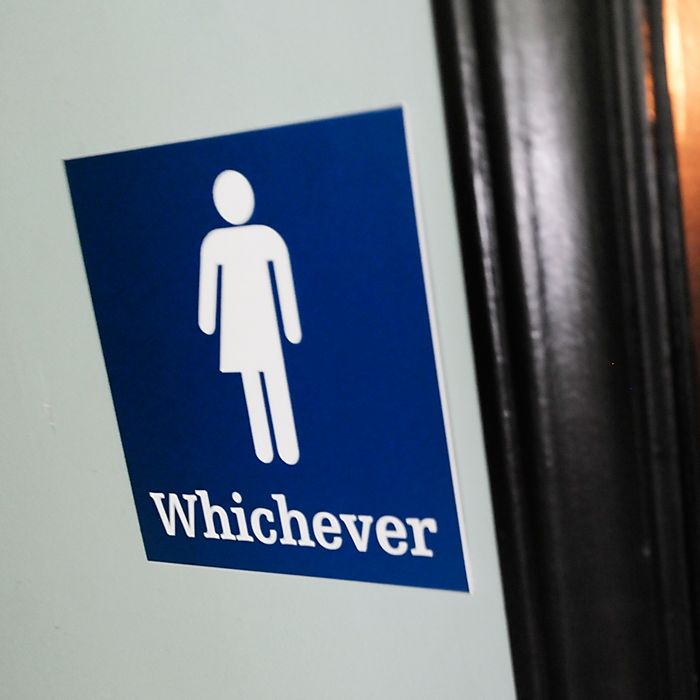 A gender neutral sign outside a bathroom in Durham, North Carolina.
Photo: Sara D. Davis/Getty Images
The Supreme Court was set to hear a major case on transgender rights late this month — Gavin Grimm, a transgender student in Virginia, sued the Gloucester County School Board over its policy restricting restroom use based on a person's biological sex. But on Monday, the court issued a one-sentence order saying it wouldn't hear the case after all. Instead, it will send the case back to a Virginia appeals court to be reconsidered in light of the Trump administration's decision to withdraw federal guidelines protecting transgender students.
Grimm's case hinges on the court's interpretation of Title IX, which bars discrimination "on the basis of sex" in any institution that receives federal funds. In May, the Obama administration issued guidelines designed to protect transgender students from discrimination; the guidelines said schools could lose federal funds if they didn't comply.
The Virginia appeals court's initial ruling on the case dodged the question of whether Title IX protects transgender students by deferring to Obama's guidelines. But the Trump administration revoked those guidelines last month, saying the treatment of trans students "is a states'-rights issue."
After the Trump administration's decision, both Grimm's lawyers and lawyers for the school board asked the Supreme Court to go forward with the case, although the school board asked that hearings be delayed to give the Trump administration time to weigh in. (Despite rescinding the guidelines, it took no position on the underlying question of who is protected under Title IX.) But it appears the Supreme Court ignored those requests, instead choosing to let the Virginia appeals court make a decision that could affect thousands of students nationwide.