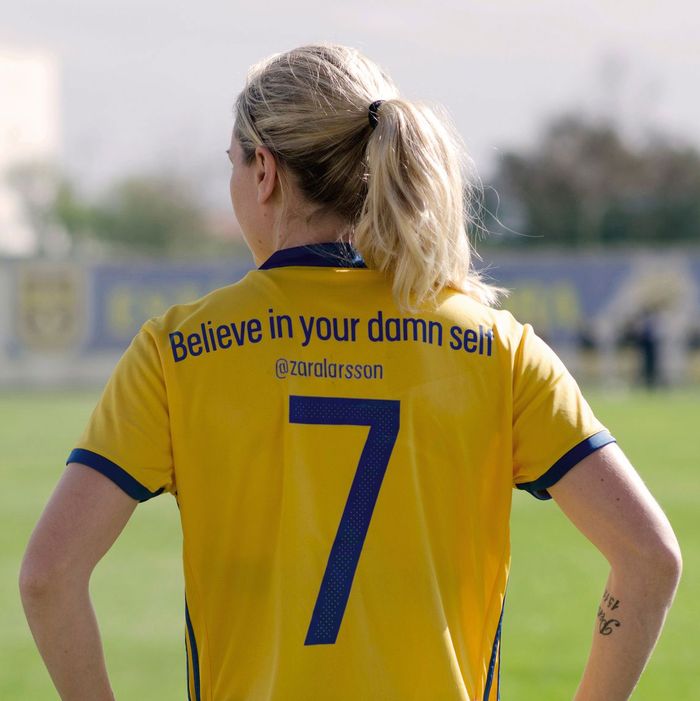 Sweden's new women's jerseys.
Photo: Adidas
While professional soccer jerseys typically include a player's number and their last name, Sweden's national women's team has decided to do something different: They've dropped the last names from their jerseys, and replaced them with phrases that "inspire and motivate women to show that everything is possible," the Guardian reports.
The new shirts were released this week, while the Swedish team — which placed second at the 2016 Summer Olympics in Rio — geared up to participate in the Algarve Cup. The Swedish Football Association asked each of the players to pick tweets from prominent Swedish women to appear on the back of their jerseys, in the spot where their last names would usually appear. The selected phrases ranged from "Believe in your damn self" (which was tweeted by artist Zara Larsson) to "Women want different things" (from the comedian Karin Adelsköld).
Per the Guardian:
The Swedish captain, Lotta Schelin, who picked a message from the Swedish politician Gudrun Schyman that says "never look down on someone unless it is to help her up", said: "The national team shirt is an important symbol and it constantly reminds us that we can win whatever game it is in whatever competitions.
"I think it is great that we can join forces with other strong women and that we together can show that everything is possible. There is always a need to show young women that it is possible to succeed and that no one should feel limited in what they can achieve and particularly not because of their sex."
The Swedish team beat Australia on Wednesday, 1-0, in their first game of the Algarve Cup. Next, they will play against China on Friday.