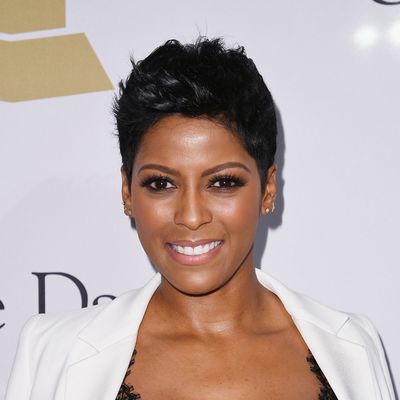 Photo: Kevork Djansezian/Getty Images
When your job for the past ten years has involved being in front of the camera delivering the news to millions of viewers at home, it's understandable that the role you play at work becomes intertwined with who you are. Or, at least, who people think you are. After all, you're someone people expect to see on television. But, as Tamron Hall views it, your job — even a prominent media job like the one she held on the Today show — doesn't define who you are. A job is just a job, Hall told a crowd at the Women's Business Enterprise National Council's Summit Salute on Thursday.

According to "Page Six," Hall recalled to the audience the differing reactions she received when she announced in February that she was leaving NBC following the canceling of her show to open a slot for Megyn Kelly. Some people called her up, apparently horrified and concerned about her well-being following her split from the network. Other people would instead call and ask, "What's next?" The latter attitude is the one Hall said she prefers:

"I don't want a friend who calls me saying, 'Oh my God.' It's a job. It doesn't define me. It doesn't determine what I do … how I treat people. I'm going to always look you in your face and say, 'Thank you' and 'Please' — and if you make me mad, a good cuss word — but in the end, a title can't define you. When your card no longer says anything beneath it, but your name, are you still you?"
Lucky for her, plenty of people know who "Tamron Hall" is without the need for a company business card.