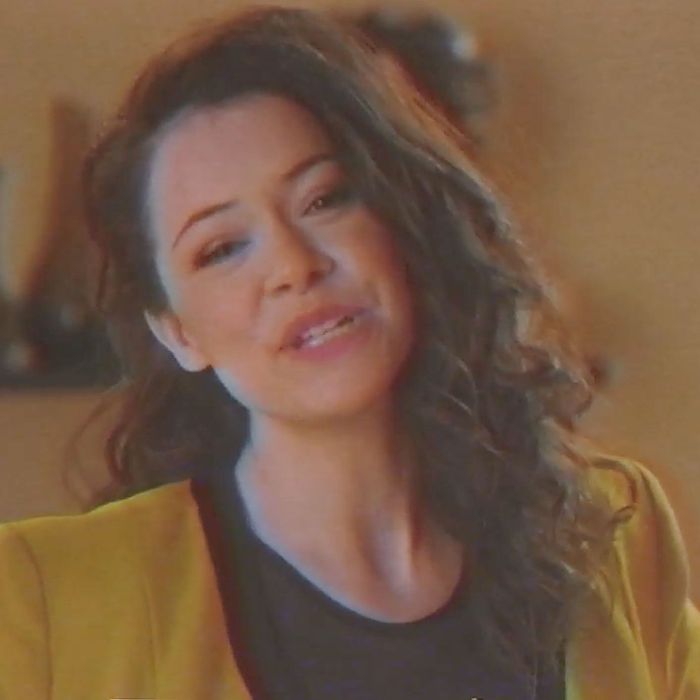 Tatiana Maslany.
Photo: Courtesy of Funny or Die
A new video from comedy site Funny or Die and the nonprofit Rise stars Orphan Black's Tatiana Maslany recommending a product to her co-worker (played by Tori Anderson) called the "Sexual Assault Survivor Utility Belt."
In a fake, '80s-esque informational, the kit is touted to include "a six-month timer to remind me when to go down to the police station and convince them not to throw away the only DNA evidence for my case" and comes in the colors "pink, blue, or scream."
This video coincides with Rise launching a campaign to change sexual-assault legislation in 30 states — Rise's founder, Amanda* Nguyen, co-authored last year's Sexual Assault Survivors' Rights Act, but many rape cases are judged by state, not federal, laws.
"I'm incredibly proud to be a part of this campaign. Survivors have already dealt with the most unimaginable trauma, and our justice system leaves them to fend for themselves," Maslany said in a statement. "I hope this video encourages people around the country to get involved and demand that their state legislators pass these critical survivor protections."

*The original version of this article incorrectly stated that Nguyen's first name is Andrea.